At a time when the advertising performance competition is getting fiercer by the day, and consumers are growing wary, building trust is vital to the success of brands. One of the most effective ways to build trust and credibility is through influencer marketing.
Question is, how can this be applied for B2B marketers?
Influencer marketing is when brands partner with influencers (someone who has built an online community of loyal followers in a specific niche) with the sole purpose of creating awareness about their product or service and drive purchase decisions.
Taking word-of-mouth marketing to a whole new level, influencer marketing is about leveraging the (relevant) influencer's clout to appeal to your target audience.
How effective is it?
A study suggests that influencer marketing focussed on branding and engagement generates 8x ROI compared to alternative methods of brand building.
Does Influencer Marketing work for B2B Companies?
If you're a B2B marketer who has always dismissed influencer marketing thinking it's only meant for B2C brands, you're mistaken.
With 90% of business decision-makers relying on peer recommendations and opinions from industry experts, it's safe to say that influencer marketing holds equal potential (if not more) for B2B brands.
B2B influencer marketing is helmed on long-term partnerships and creating impactful content with the right influencers and thought leaders to attract, engage and educate the target audience.
How to Use Influencer Marketing?
Now that you're convinced about building an influencer marketing strategy, let's take a look at how you or your digital marketing agency can leverage it to meet your business goals, along with some winning examples of B2B brands.
1. Expert Interviews
Publishing interviews and Q&As with experts is a great way to engage with them and leverage their expertise to boost the credibility of your content and get increased exposure by having them share the interview on their platforms.
An example of a brand that did this and achieved positive results is LinkedIn.
Today, it's no secret that LinkedIn is considered to be a powerhouse for B2B marketing, but this was not always the case. For the longest time, it was just known to be a job hunt/recruiting platform.
LinkedIn wanted to change that perception.
This gave rise to the launch of The Sophisticated Marketer's Guide to LinkedIn in January 2014. This guide serves as a one-stop-shop for marketers to understand how to leverage LinkedIn to drive awareness, generate leads and increase revenue.
Apart from tips, tactics and strategies, it also has a dedicated section in every chapter called 'Ask the Expert' which features an interview with an expert in that particular domain.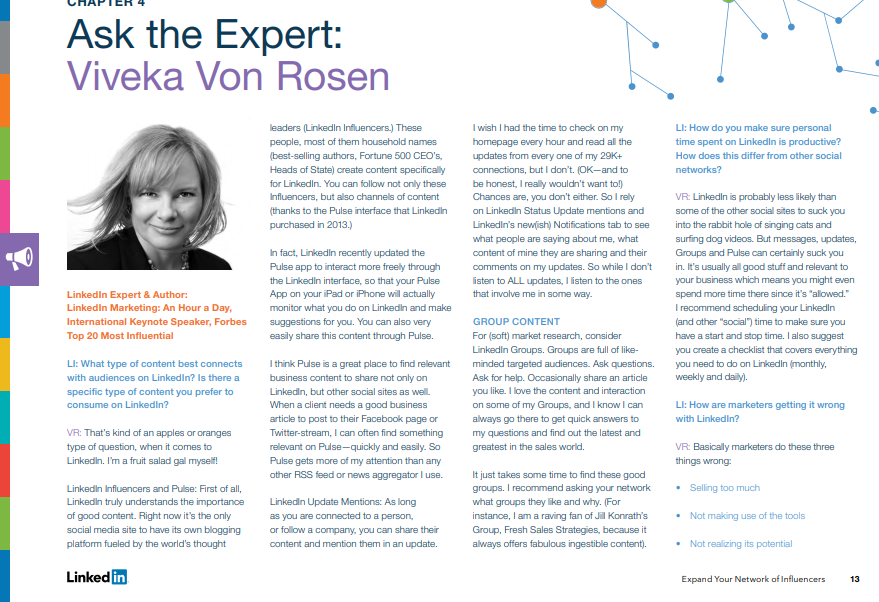 This worked in their favor as experts sharing their experiences of using LinkedIn as a marketing solutions tool educated marketers and enabled them to instil trust in the brand.
Owing to the positive response the guide received, LinkedIn continues to release updated versions until today.
2. Create Videos
Video marketing and influencer marketing are two potent marketing tools in their own right. Combine the two and there, you have a winning combination for creating awareness, generating engagement and increasing credibility.
Singapore-based international sales expert and motivational speaker, Tom Abbott adopted this approach to engage influencers and create a video series featuring expert interviews.
Here's an example of one of his videos where he is seen interviewing famous author and sales trainer, Grant Cardone on how people can 10x their business and income.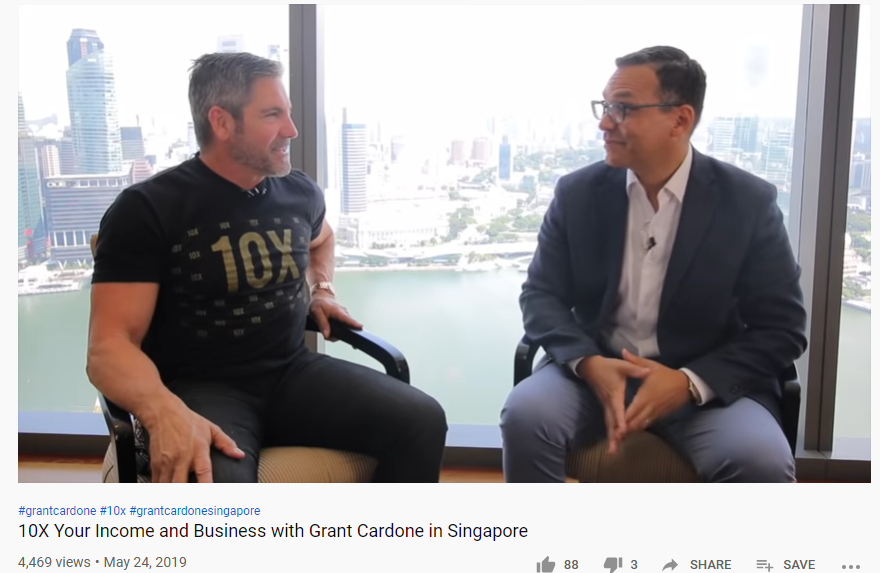 3. Co-create articles/whitepapers/eBooks
Do you know what's more effective than creating a piece of content on your own? Co-creating it with one or more industry experts. This strategy helps you expand reach, boost visibility and most of all, gain more credibility.
So, consider partnering with an expert to create an article, whitepaper, eBook, podcast, research study or any other piece of interesting content that would help you promote your brand and showcase new perspectives.
Take Dell Technologies for example – they host a podcast called Trailblazers wherein they have Walter Isaacson (former CNN chairman and CEO) throwing light on the 'world's best stories of disruption and innovation'.
As of 2017, the podcast attracted 43K subscribers and 1 million downloads, with an 82% increase in favorability towards Dell Technologies.
4. Leverage Employees
Believe it or not – your employees have the potential to be your biggest advocates and influencers. After all, nobody knows your company's strengths and challenges better than them.
So, don't look too far – sometimes, all you need to do is empower your employees to use their authentic voice to spread the brand message.
An example of a brand that turned its employees into brand advocates is IBM Asia Pacific. They trained and empowered 500 employees to be social leaders and take to LinkedIn to share their experiences.
As per IBM's Marketing Social Business Program Director, Amber Armstrong, this campaign drove 50,000 new registrations to IBM Verse in the first two weeks of launch.
5. Testimonials and Product Reviews
Just the way employees have the potential to become brand advocates, so do your loyal customers.
Authentic customer reviews and testimonials are more likely to be trusted and taken seriously as compared to any branded content you publish. They are an essential part of the buyer journey and serve as effective social proof to help potential customers move down the funnel.
An example of a brand that does this well is Okta, an identity and access management company. They've created a series of videos that feature customers sharing their experiences with the brand.
These testimonials are detailed with their customers sharing examples and statistics that aptly demonstrate the positive impact Okta has had on their company.
6. Host Offline Events
Hosting conferences, events and awards is a good way to bring together industry experts, have them share their insights and in the process, create awareness about your product or service.
As part of the event, you can invite notable personalities to be speakers or take part in panel discussions. This is an effective way to create valuable content while leveraging the reach of influencers who are part of your event.
We at Brew Interactive did this ourselves when we hosted the HubSpot User Group event on 'Advanced Lead Generation Strategies'. This event got together marketers and HubSpot users in Singapore and had sessions by renowned speakers from the HubSpot team and Tim Soulo, the CMO at an industry-renowned tool, Ahrefs.
Founder of Brew Interactive, Marcus Ho moderating a panel at the HubSpot User Group event
Conclusion
Even though B2B influencer marketing is not as straightforward as B2C influencer marketing, when done with a clear purpose and with the right influencer on board, it can certainly help in creating awareness, generating leads and influencing purchase decisions.
Influencer marketing in the B2B space is all about cultivating long-term relationships with industry experts and exchanging value such that it educates your potential audience and moves them down the sales funnel.