More than half their time goes into completing paperwork, responding to emails, processing orders, getting approvals and other administrative tasks.
What if they could invest that precious time in activities that would directly generate revenue and boost their selling time?
There are many day-to-day tasks in the life of a marketing or sales professional that don't require human intervention. Not only are they tedious and repetitive, they are also time-consuming and prevent people from focussing on the high-impact, important tasks.
This is where automation comes into the picture. These are the four key benefits of automating tasks:
Saves time
Provides one single source of truth
Cleans data
Saves money
If you're a HubSpot user, you will be pleased to know that this platform lets you integrate several apps while automating tasks.
Let's take a look at 11 HubSpot automation hacks in the sales and marketing process you can turn to for optimizing time and improving productivity. We've categorized these hacks into three buckets based on their ease of integration. 
Automation hacks levels:
HUGhacks: Easy
This category of hacks will take you around an hour to implement but the time and money-saving benefits you will reap will be minimal.
1. Automate sign-off process 
Whether its proposals, quotes or contracts — a lot of time goes into creating, editing and managing these essential documents. To top that, in many instances you realize you're just waiting for the deal to get signed.
Free B2B Content Strategy Template
Not sure where to start when it comes to your content strategy? Struggling to gain traction? Grab our free B2B content strategy template to help you document your strategy.
DOWNLOAD NOW
Clients are busy people but that doesn't mean you need to spend your time waiting. An effective way to save time is by automating the sign-off process. This is possible by integrating a document automation software such as PandaDoc to your HubSpot CRM.
This allows you to create on-brand templates and send contracts for eSignature from HubSpot while simplifying the sign-off process.
It also offers real-time document analytics, letting you see when the recipient opens, views or completes your document. You can also see how long they spent on each page and proactively address any concerns they might have.
What's more, you can create a workflow and automate the follow-up process. Take the below screenshot for example — it specifies that if the quote has not been signed in 14 days, a follow-up email will be sent.
2. Engage leads using conversational messenger
Customers of today want answers and they want them quick which is why it helps to have a messenger strategy in place. This enables you to strike personal conversations, address concerns, build stronger relationships, and provide a customer-friendly experience.
With HubSpot, you have the option to connect your Facebook Messenger account and create an instant reply chatflow.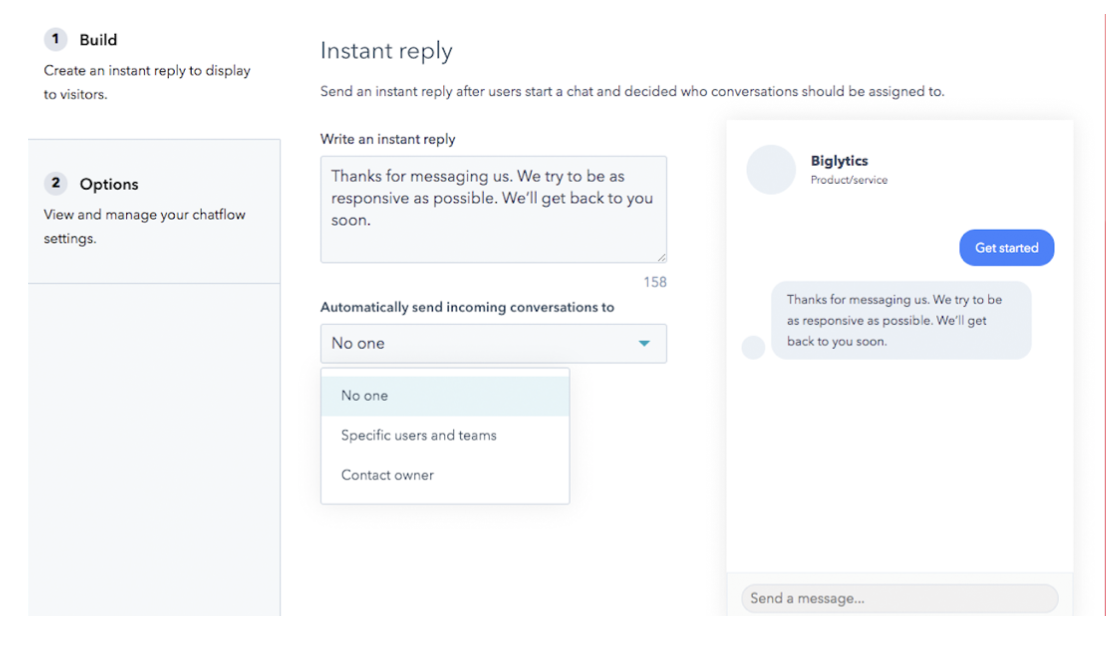 This helps you manage customer interactions from one place while keeping all stakeholders in the loop. You can also analyze the conversations that have taken place from the reports dashboard.
HubSpot makes delegation easy too by letting you assign prospects to the sales team or support representatives.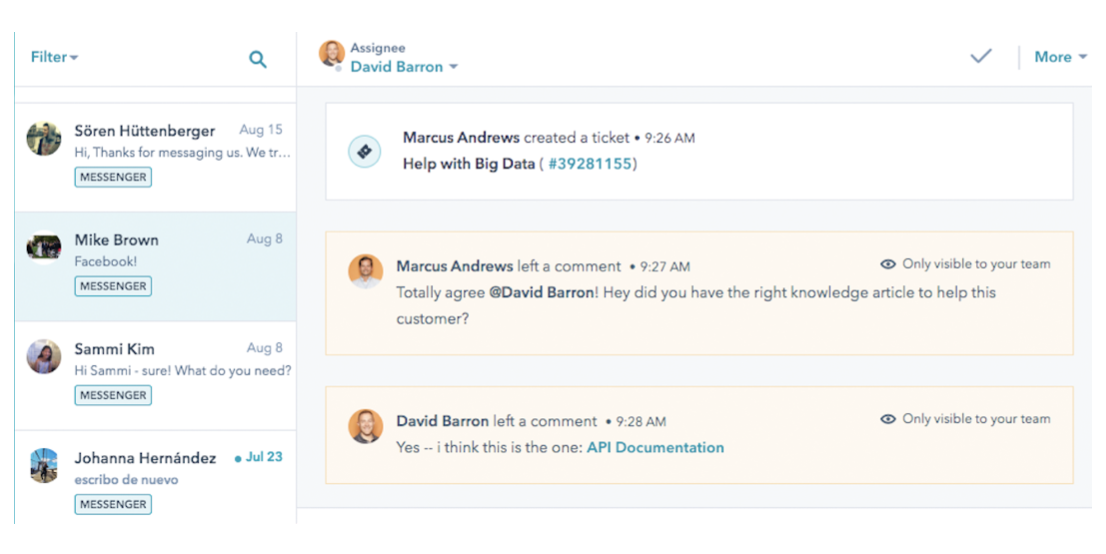 3. View comprehensive performance reports
As a sales or marketing professional or small business owner, you're sure to be looking into multiple reports and that can get overwhelming at times.
What if there was a way to get a bird's eye view on all the important metrics from a single dashboard? The good news is that the HubSpot Databox integration makes it possible to achieve that.
You no longer have to copy/paste data or import CSV files to get all your analytics data into one place.
This integration lets you view marketing and sales analytics data on your mobile, desktop and TV from a wide range of sources such as HubSpot Marketing/Sales, Google Analytics, SEMRush, Facebook Advertising and many others.
You also get to create custom view reports, send automated snapshots and receive timely alerts on your email or mobile.
4. Engage leads and customers beyond email
With the rapid growth of messenger marketing, it would be silly to overlook one of the most popular messaging apps — WhatsApp.
WhatsApp serves as an effective lead generation and nurturing channel owing to its conversational nature.
What's more, not everyone has an active account on Facebook and might prefer communicating via WhatsApp. So, having this option helps you reach customers or prospects where they are.
By integrating WhatsApp with HubSpot, you can have one-on-one conversations while delivering a more personalized experience. All the conversations will be recorded on HubSpot and you can also create workflows to automate the communications.
5. Fix poorly input information
Picture this — a prospect named Jack inputs his first name in lower case (jack) and the next thing you know, your automated welcome email begins with "Hi jack". That's just poor email etiquette.
How many times have you had to manually fix poorly entered lead information to bring consistency in your records?
With HubSpot, you can integrate an input fix tool such as Integration Fox to correct poorly input information automatically upon submission. This includes::
Title Case
UPPER CASE
lower case
Sentence case
This might seem like a minor fix but in reality saves you a lot of time while ensuring the names of contacts and companies are properly formatted, tidy and well-suited for professional communication.
HUGhacks: Medium
This category of hacks will take you about two hours to implement but will end up saving a lot more time and money in return.
6. Send invoices quickly
There is nothing more frustrating than to waste your time and energy on following up with clients on invoice payments or worse, dealing with ghosting clients.
As a HubSpot user, you have the option to integrate an invoicing cloud software such as Xero or QuickBooks to your HubSpot account. By doing this, you can automate the entire process and generate invoices quickly.
You can provide digital payment methods such as credit card or fund transfer, making it easy for your clients to pay you. You can also set up recurring invoices and automate reminder emails.

7. Optimize your ads strategy
The key to a successful ad campaign lies in targeting the right people but how do you know you're targeting the right prospect with the right communication?
Enter Ads Interactions.
Using the Ads Interactions enrollment trigger in HubSpot's lead nurturing workflow will help you segment your ad audience (based on how they've interacted with your ad) and engage with them relevant information, encouraging them to convert.
8. Drive and segment leads
Generating leads is not enough — it's equally important to segment them so you're able to target the right audience and deliver value to your customers.
While most marketers turn to eBooks, white papers, checklists and reports to generate leads, one really needs to stand out in the sea of content. An effective way to capture attention and attract leads is by creating interactive content such as quizzes.
Not only does this tactic engage audiences, it also helps you create segmented lists and paves the way for a more focussed marketing approach.
With HubSpot, you have the option to integrate an online form builder such as Typeform to create visually-appealing forms, surveys and quizzes. Based on your prospects' individual responses, you can also create personalized journeys.
9. Engage existing customers in ERP system
Most mid to large sized businesses have an ERP (Enterprise Resource Planning) and CRM (Customer Relationship Management) system. While an ERP system is focussed on managing business processes, a CRM system deals with client or customer interactions.
While both are separate solutions, you should consider integrating the two to streamline processes, remove friction and deliver a seamless customer experience.
HubSpot lets you integrate an ERP system such as NetSuite, helping you sync all data, manage edits and updates without compromising on any information.
10. Sync tasks across platforms
From setting objectives to coordinating effectively and tracking progress — a powerful project management tool helps create a collaborative and productive work environment.
HubSpot lets you sync your tasks to tools such as Trello, Asana, Jira, and Zendesk among others. This enhances internal communication and speeds up the collaboration process while helping you close deals quicker.
HUGhacks: Hard
This automation hack will need you to reach out to a third-party agency that is equipped to do HubSpot integration such as Brew Interactive. However, it will save you tremendous time and money in return.
11. Aligning Sales, Marketing and Operations in one software
From marketing and sales to customer relationship management — HubSpot offers a full stack of products, helping businesses grow.
However, integrating new tools into an existing ecosystem is not a straightforward process. With the number of people involved, companies feel the need to create a business case to convince stakeholders of any new integration or tool.
Here are a few common factors that are usually considered:
Existing IT security, governance policies within the organization
Existing enterprise platforms/tools that needed seamless integration to collaborate, and how to do so
Easing the concerns of the various teams in how they function before and after Hubspot is set up/integrated within the ecosystem
Commercial factors (how much it costs to acquire, integrate and maintain)
Benefits across multiple teams vs potential KPI targets
Adjustments across multiple teams / role adjustments and expectations within each team
Action plan in phases
Conclusion
These HubSpot integrations go a long way in improving business processes and supercharging your sales and marketing efforts while saving time and money in the process. So, consider these 11 time-saving hacks, keep repetitive tasks at bay and focus on the more cognitive ones.
Free DataStudio Marketing Report
Improve your marketing reporting with our free DataStudio template that pulls data from Analytics, Google Ads, and Search Console to get a 360 degree view of your digital performance.
DOWNLOAD NOW