Facebook and Google advertising are great ways to drive traffic to your websites or generate leads. However, there are a couple of reasons to consider alternatives.
First of all, there's a cost factor. The cost of advertising on the Google and Facebook networks is pretty high given the amount of competition from other bidders. The average CPC in AdWords across all industries is $2.69 for search and $0.63 for display (and the most expensive keywords are almost $55 per click!):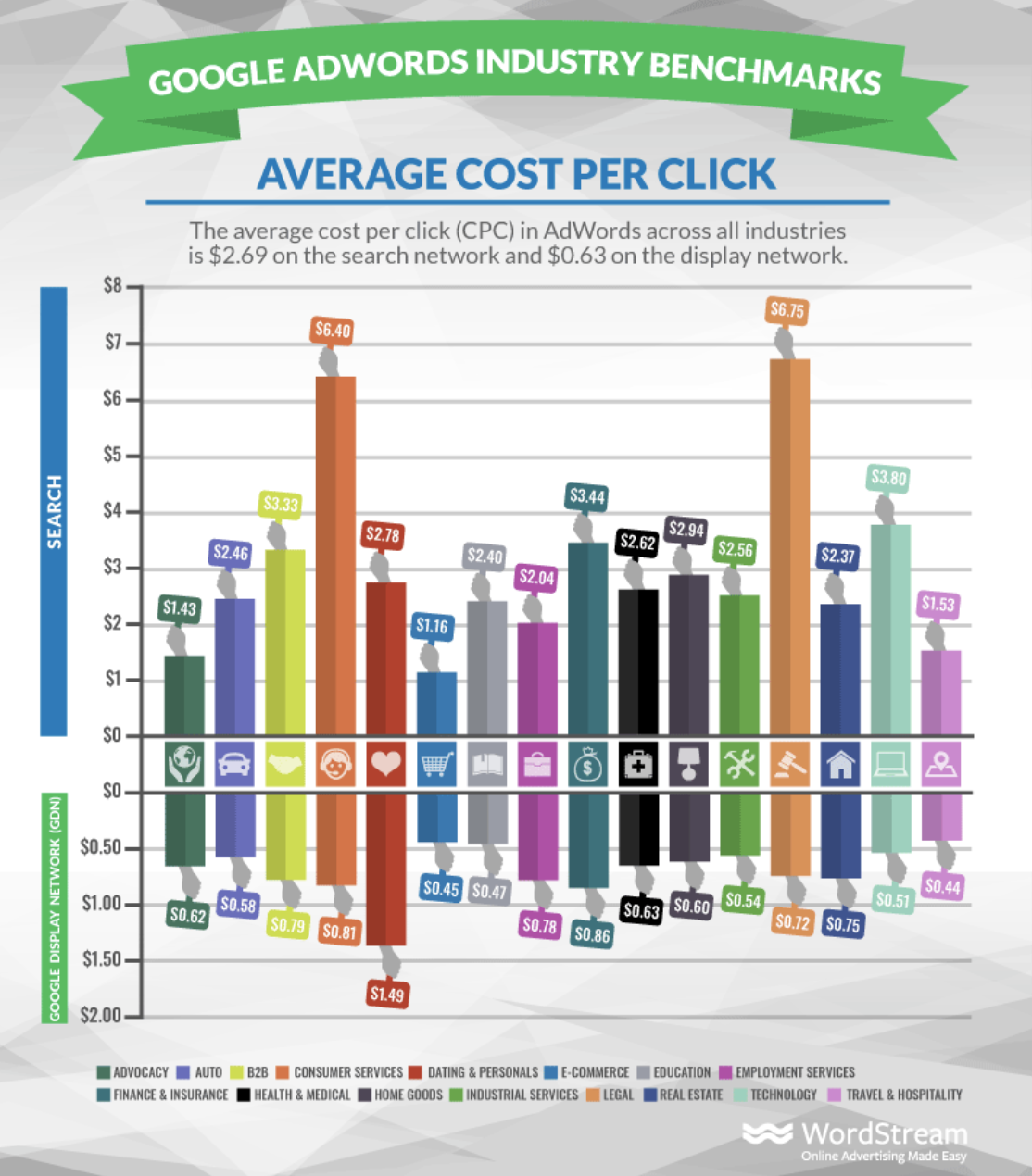 And the average CPC of Facebook ads is $1.72 and rising steadily as advertisers flock to the platform: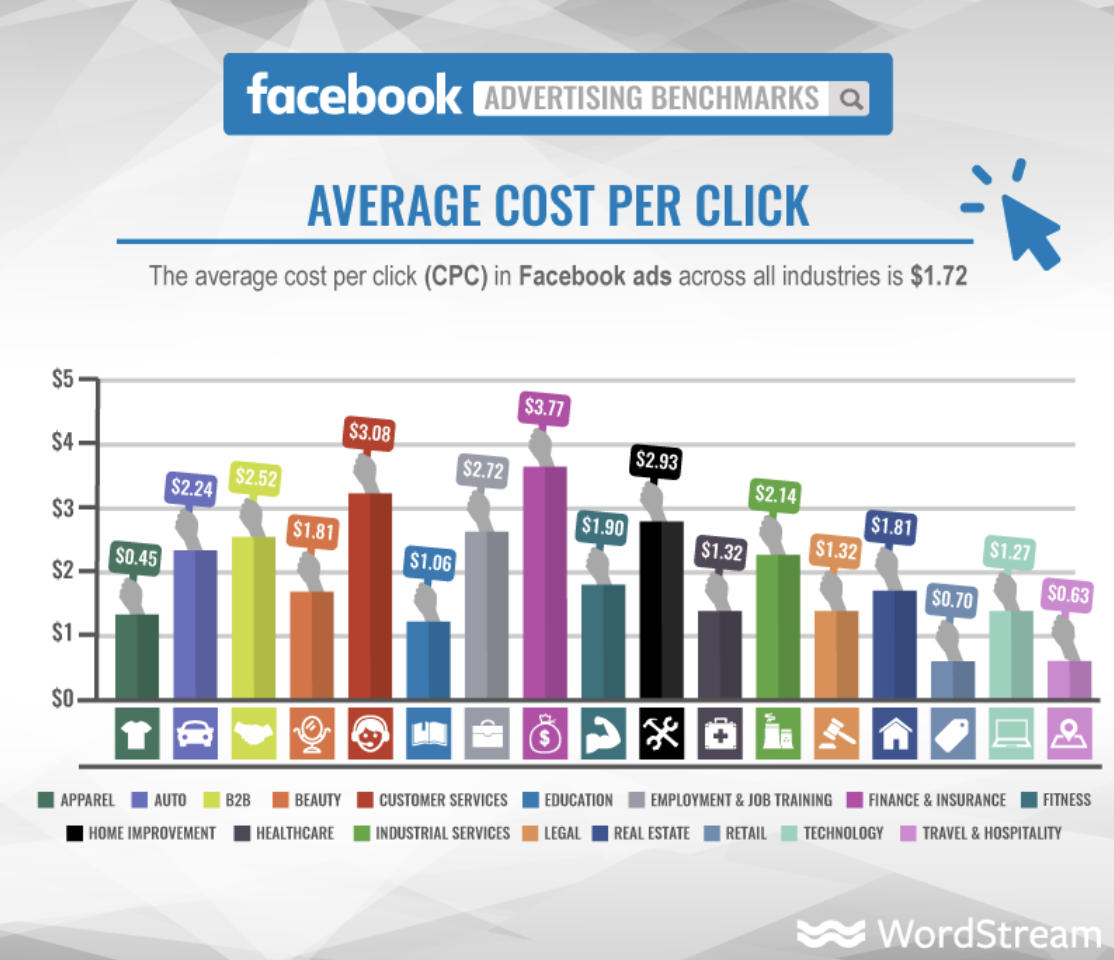 In addition, both Facebook and Google have implemented stricter restrictions on advertisers, which makes it difficult for businesses in certain verticals to use the networks effectively. These include companies in the adult, pharmaceutical, gaming and weaponry businesses, as well as affiliate marketers.
This is a complete guide to the huge variety of digital advertising networks available for interested advertisers looking to reach audiences all across the world, including Asia.
AdColony was created by mobile developers, for mobile developers, and has grown into one of the largest mobile advertising and monetization platforms in the world with a reach of more than 1.5 billion users globally. This platform curates the world's highest performing, chart-topping mobile environment for advertisers to deliver impactful experiences at scale. Moreover, with more than 16 offices located all over the world including Beijing, Singapore and Tokyo, AdColony guarantees an extensive global outreach.
Admax Asia is a digital ad network that allows advertisers and agencies to advertise in Asia via a network of over 200 specialty-content websites, more than 2,900 local Asia and international websites, and a monthly reach of 76.1 million people. With offices in multiple countries such as Thailand, Malaysia and Singapore, it is an effective platform if you're looking to reach out to audiences based in Southeast Asia.
Ad Recover's uniqueness lies in its recognition of millennials as the group with the highest number of users with ad blockers installed. This platform targets adblocked users with permission-enabled non-intrusive ads and therefore monetizes the recovery of ad blocked inventory in a way other platforms are not able to. If you're looking to reach out more to this specific community, you'll find Ad Recover highly suited to your needs.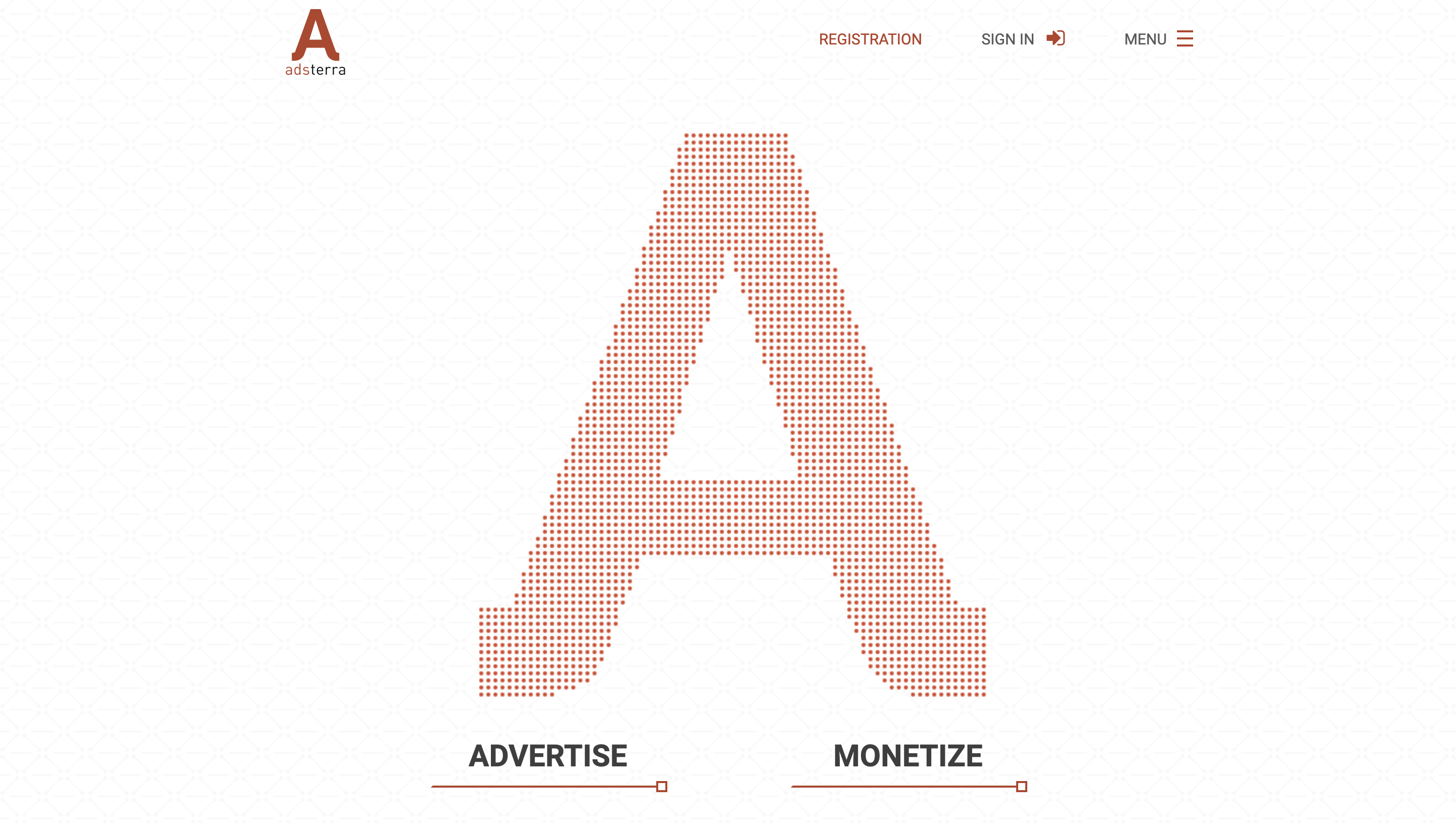 Adsterra is an advertising network that offers performance-based solutions, with over 25 billion geo-targeted ad impressions monthly. It offers a variety of ad formats such as display banners, direct links, and push notifications, and provides a dedicated support team to help advertisers with strategic and tactical insights into their campaigns.
Adways is a mobile marketing company based in Tokyo, and offers a variety of different services, such as an automated marketing platform for mobile apps, management platform for performance ads, and keyword ad service for web search engines in China. They cater to countries such as Taiwan, China and Korea, and would be a good choice if you're looking for multiple services.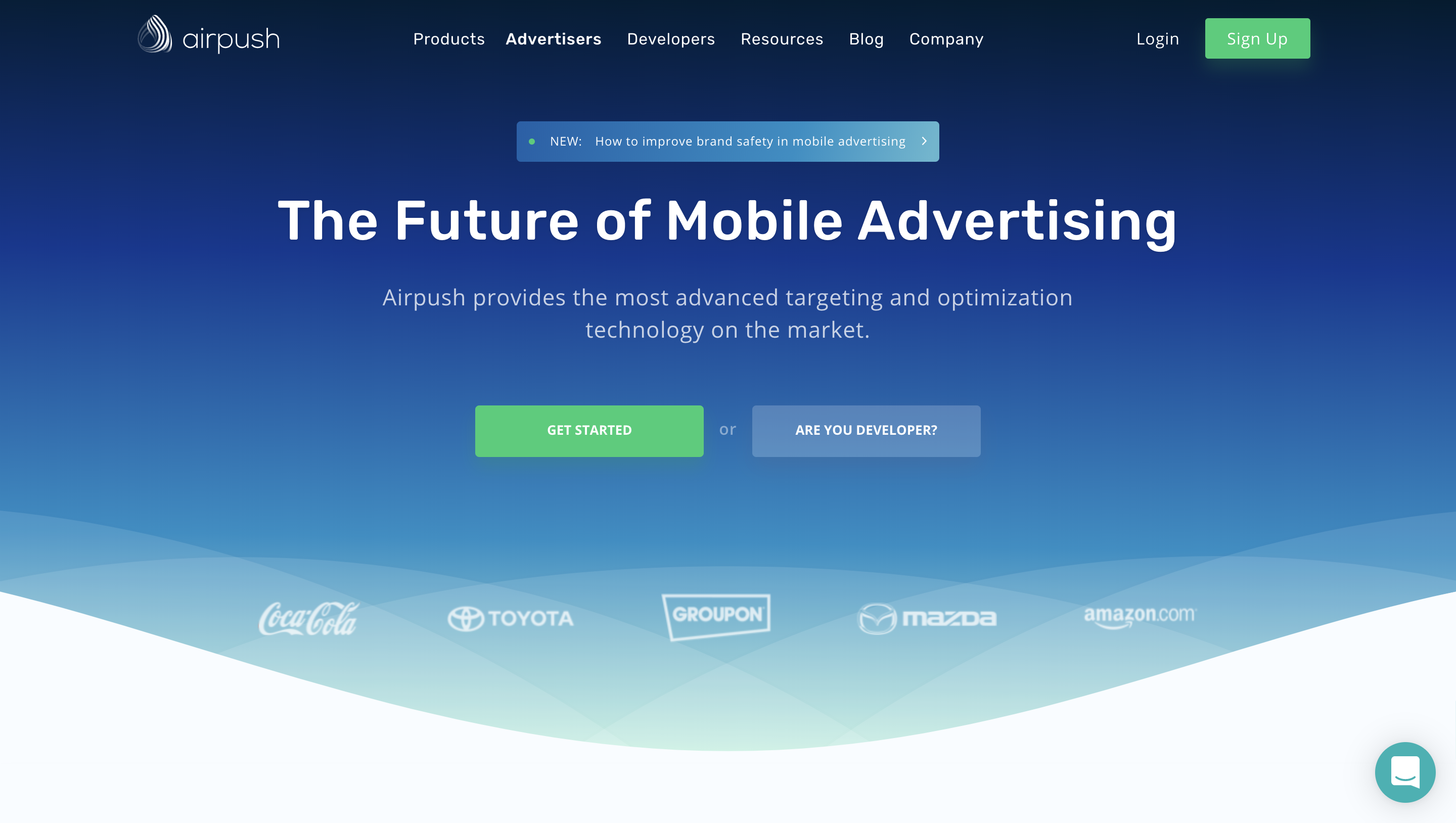 For those seeking mobile advertising platforms, Airpush is known as one of the largest mobile ad platforms with over 120,000 live apps utilizing its software development kit. Airpush advertisers can choose from a variety of ad formats designed to engage with users in an impactful and meaningful way. One of these formats include the Abstract banner, a new and highly creative format that allows messages to expand into full-motion transparent overlays. Airpush's guaranteed unrivaled performance and huge variety of advertisement methods for mobile advertisers makes it suitable for all kinds of advertisers.
Affle helps advertisers achieve consumer engagement, acquisitions, and transactions through mobile advertising. Aside from serving online companies, Affle has an Enterprise platform that helps offline companies go online via app development. They currently have multiple offices in India, Singapore, Indonesia and Dubai.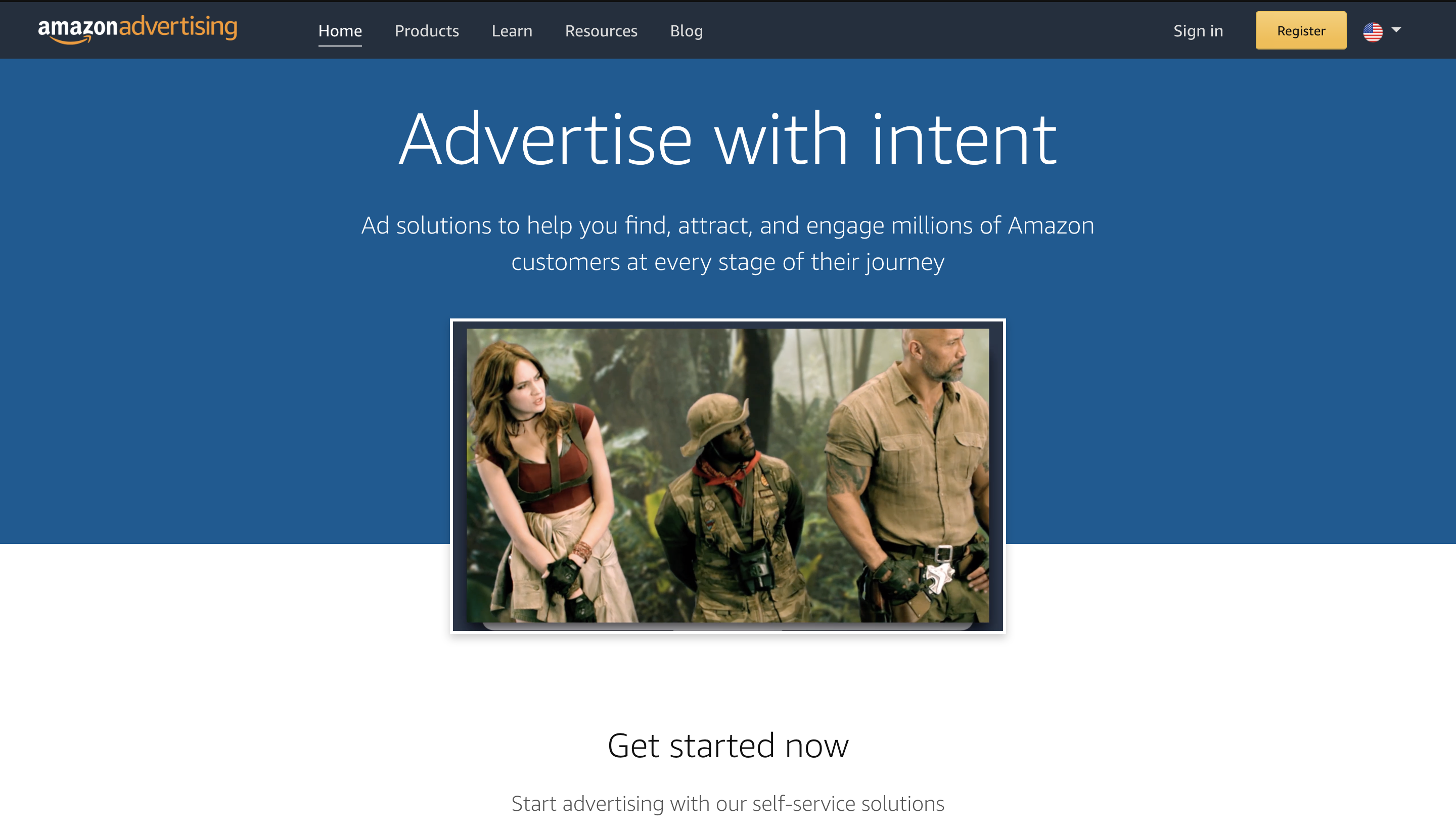 You've definitely heard of Amazon, but did you know that this multinational technology company, considered one of the Big Four technology companies alongside Google, Apple, and Facebook, provides ad solutions too? Its reputable e-commerce platform attracts buyers from all over the world, and that includes Asia. There are multiple ways to advertise, ranging from mobile banner ads to video ads, which is perfect if you desire flexible prices.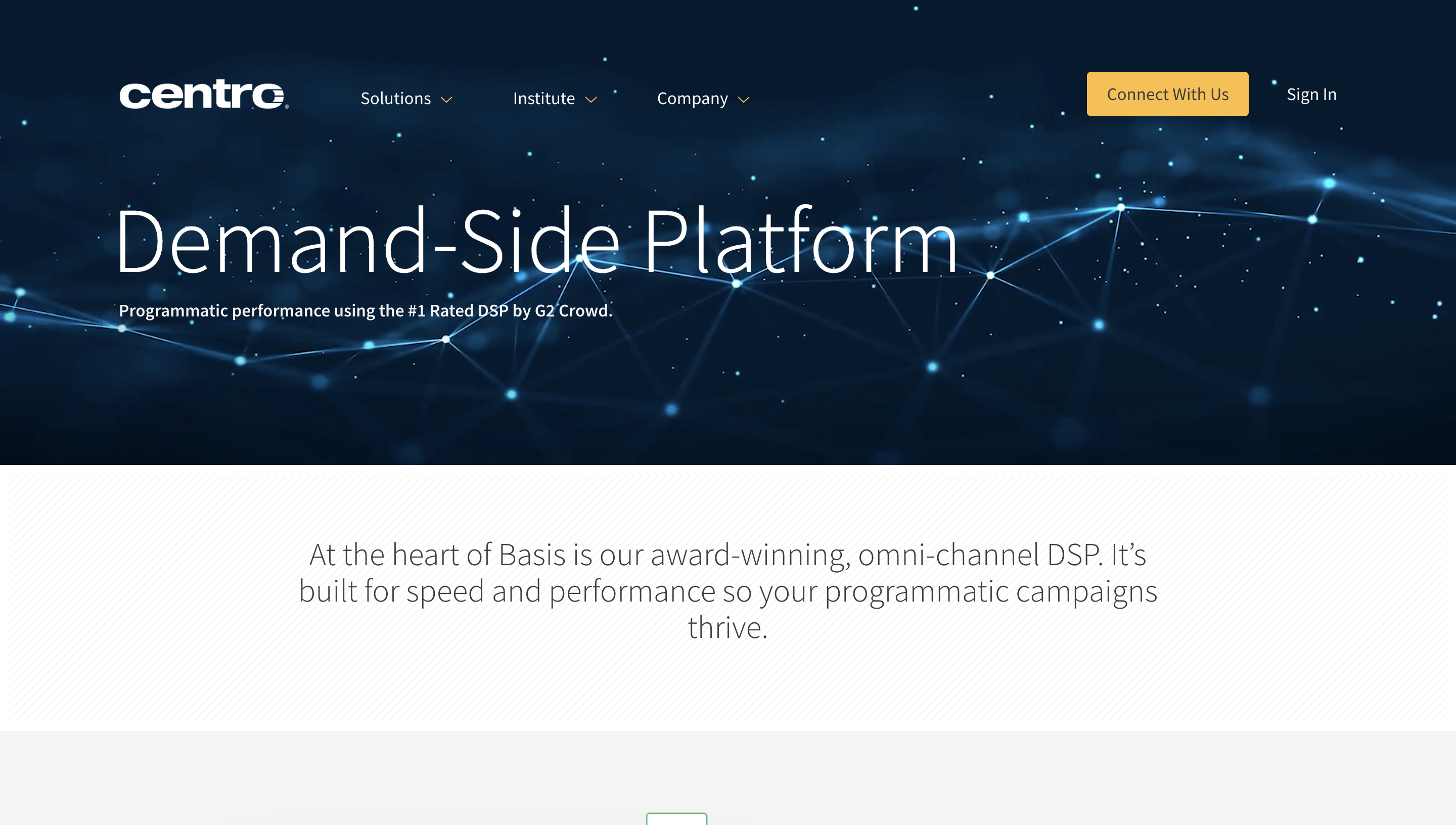 Basis DSP by Centro is an award-winning, omni-channel DSP that is built for speed and performance so that your programmatic campaigns can thrive. Real-time insights into performance metrics without any delays are provided, which allows companies to make critical decisions and adjust budgets on-the-fly. The programmatic advertising platform also provides access to private marketplaces that cover more than 1,000 curated deals from more than 150 publishers, and strategic integrations with over 40 popular data providers. To ensure the highest possible ROI, it'd be ideal for you to keep close tabs on their campaigns and optimize them.
Bidsopt is a programmatic advertising technology company based in Singapore. Counting companies such as Cadbury as clients, they help advertisers build brand awareness, drive traffic to targeted sites or apps, and increases customer acquisition campaigns through programmatic and social channels.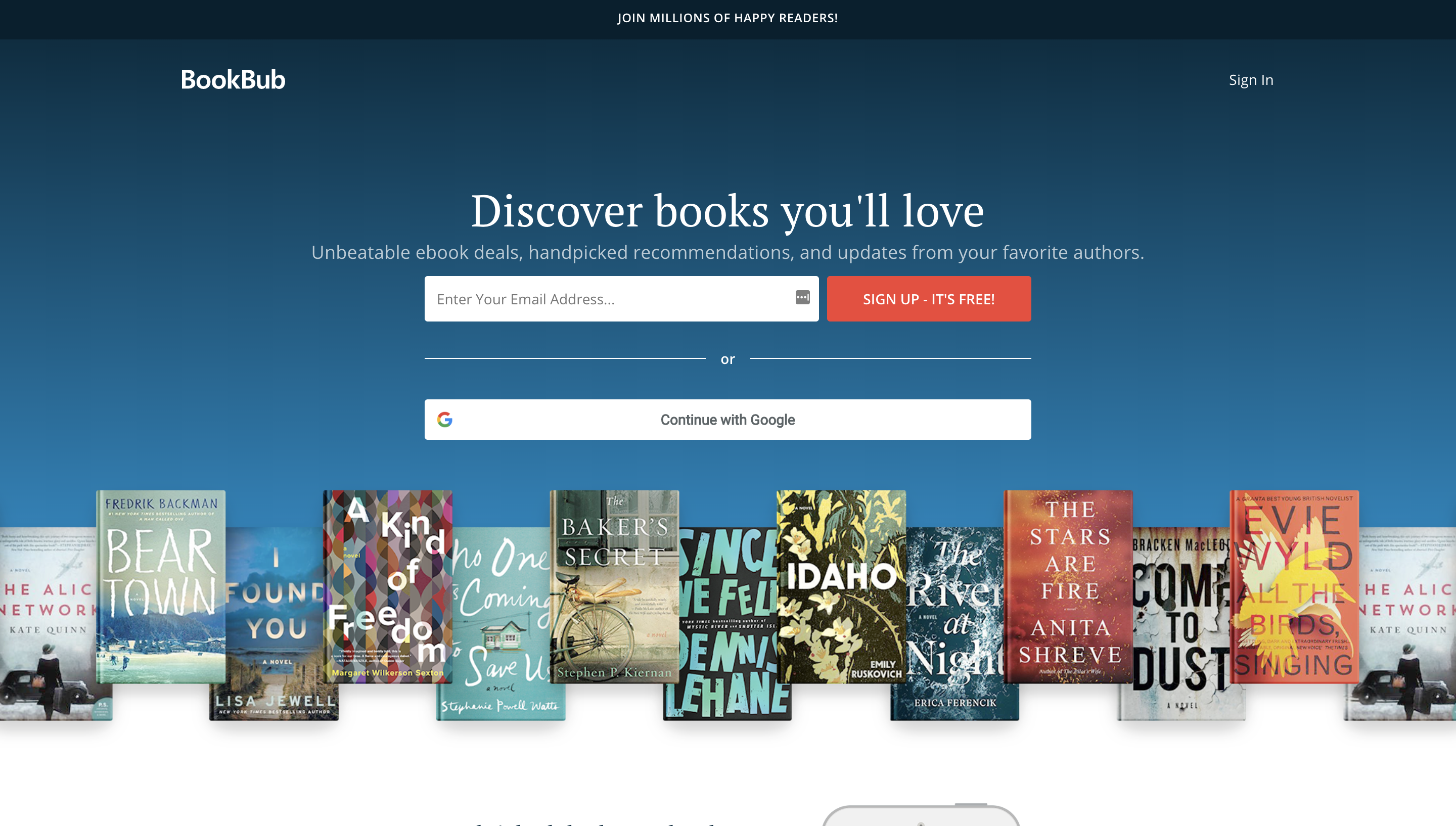 BookBub is a platform for book-lovers as it gives millions of readers great deals on popular books. Readers subscribe to their email list to receive new book deals, and advertisers can pay to have their book promoted on the platform. You can choose to target by author interests, category interests, and more. Additionally, the process of advertising on BookBub is extremely flexible as they are not subject to any sort of editorial selection process– as long as the book complies with their policies, it can be promoted.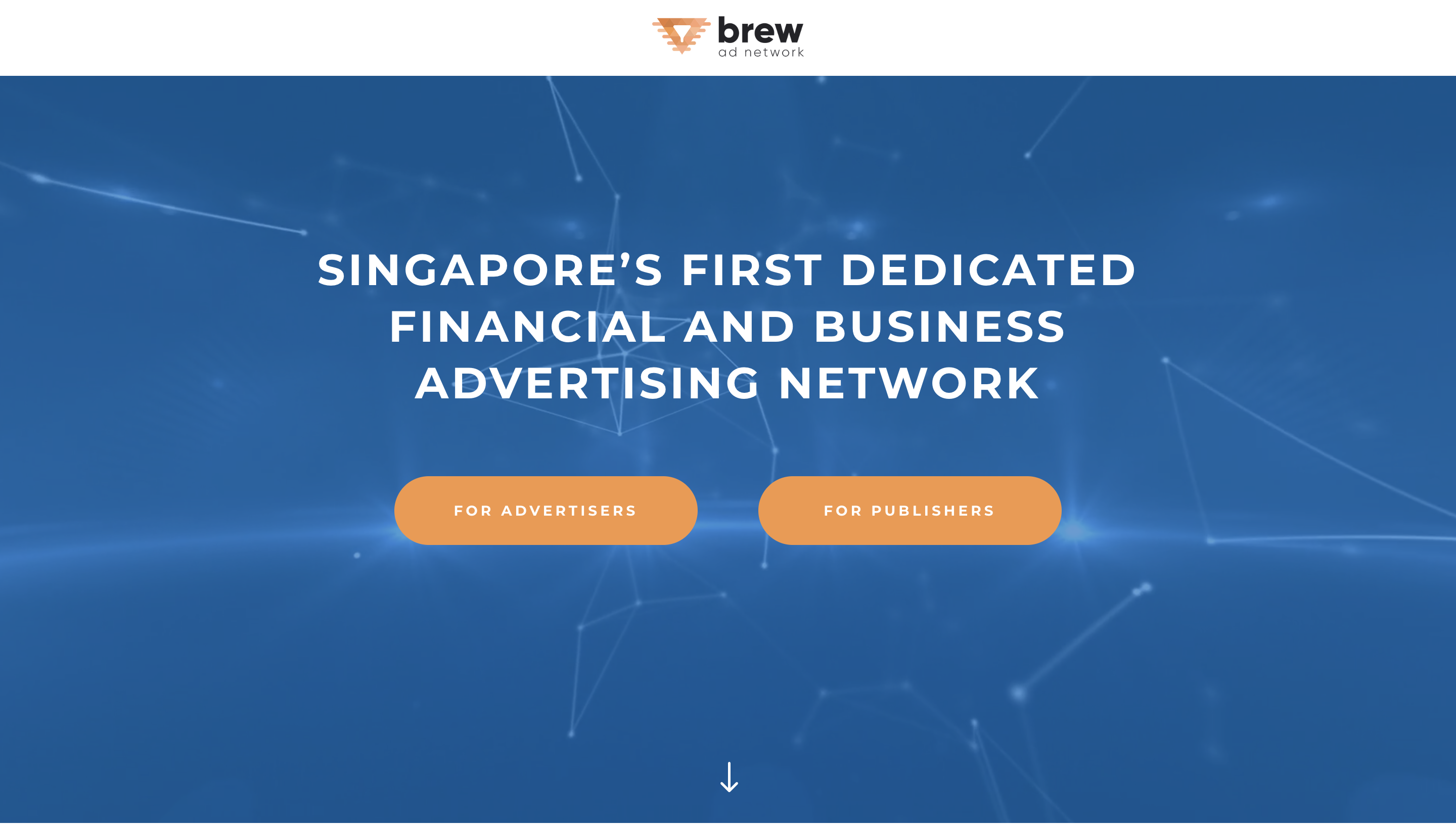 If you're based in Singapore or looking to target the local crowd, this would be right up your alley. Brew Ad Network is Singapore's first dedicated financial and business advertising network that reaches over 200,000 affluent audiences through Brew's premium publish network. The platform prides itself on being a one-stop solution due to their extensive and exclusive network of publishers locally, and they host a range of advertisers, from the financial, real estate, or B2B industry. Brew's track ROI and campaign optimization through various functions like 100% publisher transparency, real-time data and more enables advertisers to monitor their trends and outreach.
Click Asia is a digital marketing agency that offers high performance marketing services to small and large companies globally. Founded in 2009, the company comprises of a team of professionals with experience marketing in Asia, and will be a great choice if you're looking to enter markets in China or Japan.
DGTG is a digital marketing company that specializes in technology, affiliate marketing and programmatic advertising. Based in India, they offer AMM, a network that provides services such as email marketing, in-app advertising and display advertising, as well as DG:matic, which offers content production services.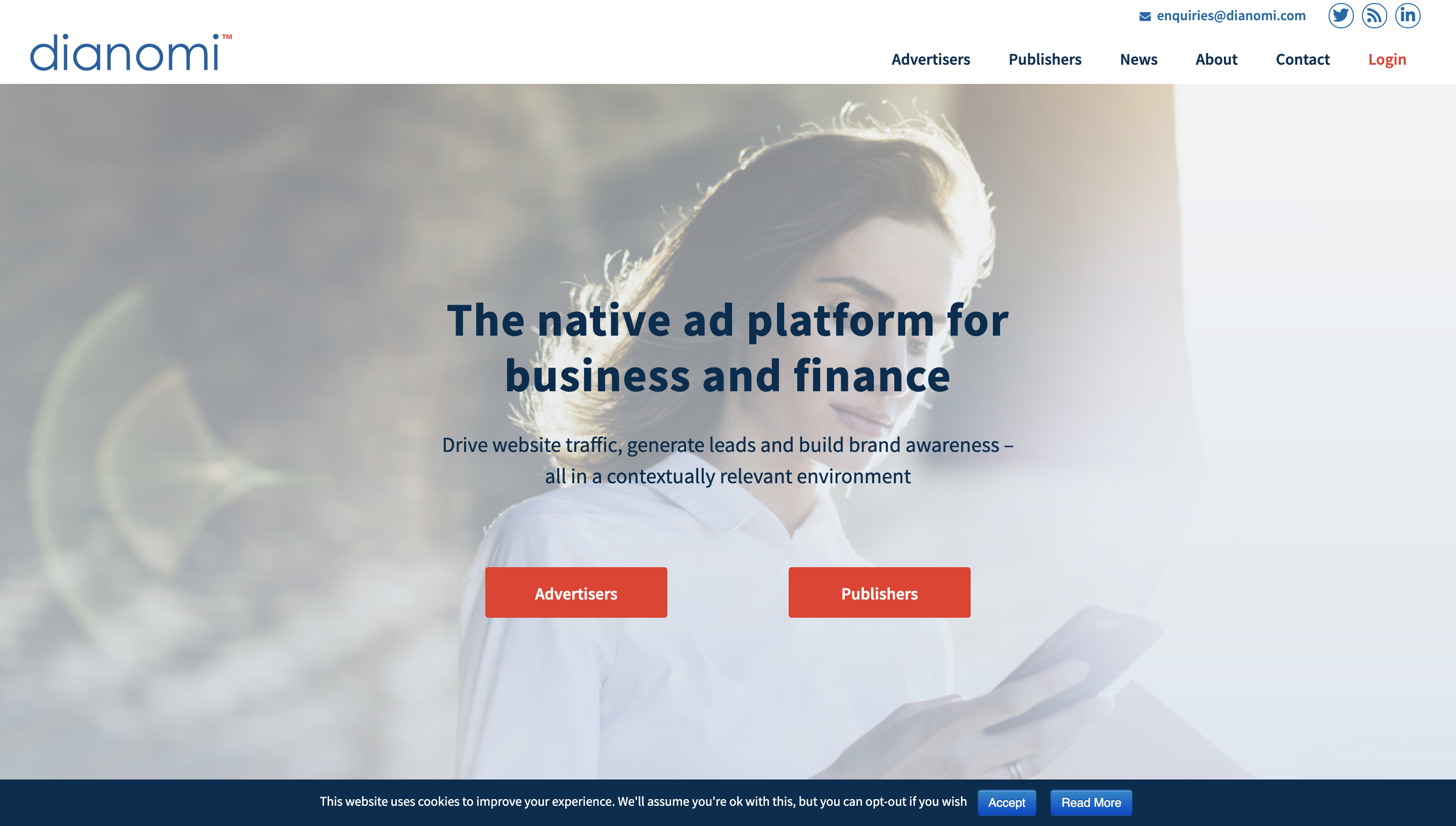 Dianomi is a native ad platform that prides itself for advertising in business and finance. You can expect to drive website traffic, generate leads, and build brand awareness in a contextually relevant environment. This is a network with a very specific target audience as content-driven advertising is integrated among their leading financial and business focused publisher network. Dianomi is a great choice if you're seeking to reach audiences in these selected fields as this platform is the largest financial network with over 350 financial and business publishers, and has generated over 300 million impressions monthly in the APAC region.
Dr. Banner is a unique all-in-one platform that allows you to seamlessly plan, launch, and optimize hyper-targeted online advertising campaigns. It is a platform that is highly interactive and creative, including features that allow multiple banners to be created in a few clicks, editing to feature individual point-of-sale information, and more. Its dedication to enabling smooth and easy advertising campaigns that can be planned and launched in less than 5 minutes makes it convenient if you're working with short time frames. With campaigns in locations such as Japan and Thailand, this network is definitely a good option if you're looking to expand your presence in Asia.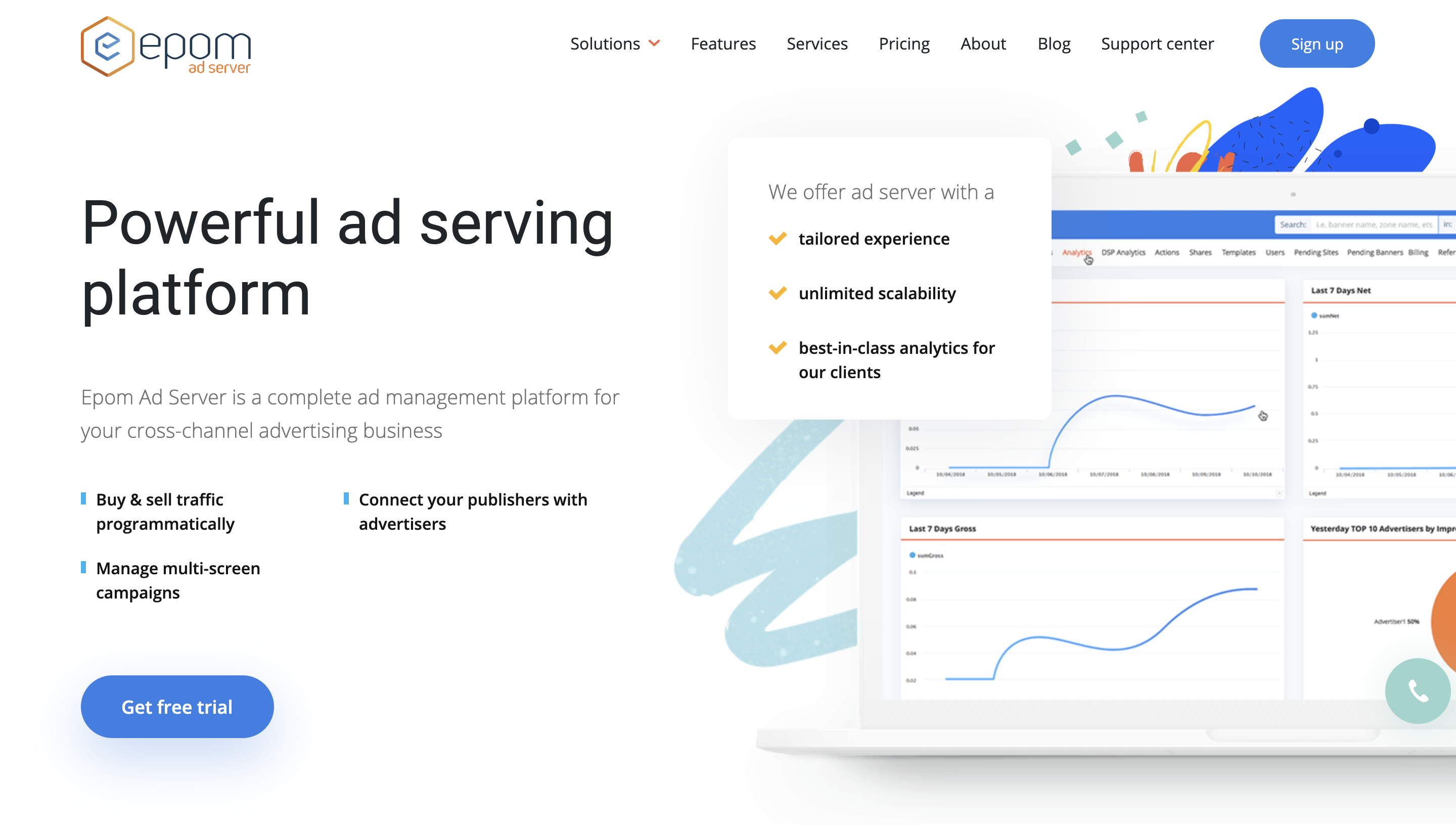 The Epom ad server is a powerful ad serving platform that offers a tailored experience, unlimited scalability, and best-in-class analytics for advertisers. One of its unique selling points is that it offers a 14-day trial through which interested advertisers can receive up to 1 billion free impressions, which allows you to test it out before you spend. Epom has worked with established companies like Taptica, ASC, and Bluesee.
Evadav is an AdTech (advertising technology) platform that focuses on providing advertising services via push notifications to users on mobile and desktop. It uses the CPC (cost-per-click) model, and receives traffic from all over the world, including India, Thailand, Singapore, Vietnam, and the Philippines.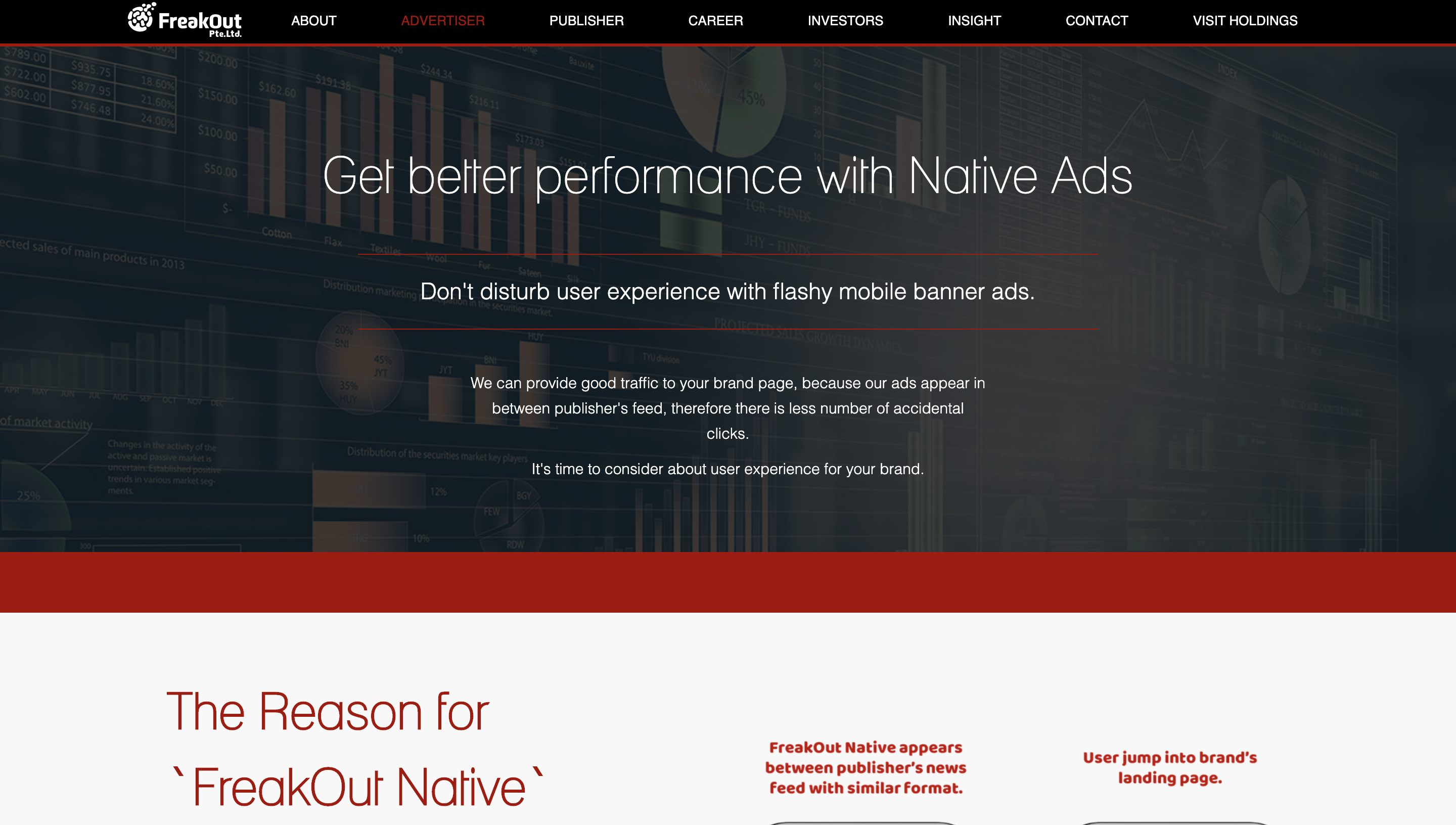 FreakOut is a native ad platform in Southeast Asia that focuses on providing in-feed style native ads using similar formats and layouts to match websites and apps. They believe in providing high-quality traffic to brand pages by designing ads that appear in between feeds, increasing user experience. It has offices all over Asia including Hong Kong, Korea, and India, and is currently still expanding rapidly.
D&B Hoovers is a sales acceleration solution that provides a faster path from prospect to profitable relationship by leveraging data and analytics. If you're interested, you can request for a free D&B Hoovers Technology CRUSH Report to obtain valuable insights and access to technology-focused company intelligence at a Fortune 1000 or Global 500 company of your choice.
InMobi is a mobile ad solution that prides itself on driving real connections by helping brands understand, identify, engage and acquire consumers. The developers have conducted research customer behavior and identified when they are most receptive to marketing messages, as well as the periods when they are most likely to make key buying decisions. Leading brands like Netflix and Samsung also engage InMobi which is sound assurance of its impeccable quality. The best part? InMobi has 10 offices in Asia alone, so you can find a local office for the services you need.
LINE is a Japanese instant messenger app that is not only popular in Japan, but also in countries such as Thailand, Taiwan and Indonesia. Through the app, you can include place ads on LINE's timeline, news sections, blog, and other services, which can help you reach a wide range of audience.
A pristine reputation is essential when it comes to selecting the right advertising platform, and Outbrain has such impeccable standards that they are engaged by some of the world's top media companies and brands including CNN and The Guardian. The company brands itself as a discovery and native advertising feed, and with a range of solutions offered in response to creative advertising, you'll definitely be in good hands with this platform. Their offices include Mumbai, Singapore and Tokyo, so if you're targeting Asia, here's a great place to start.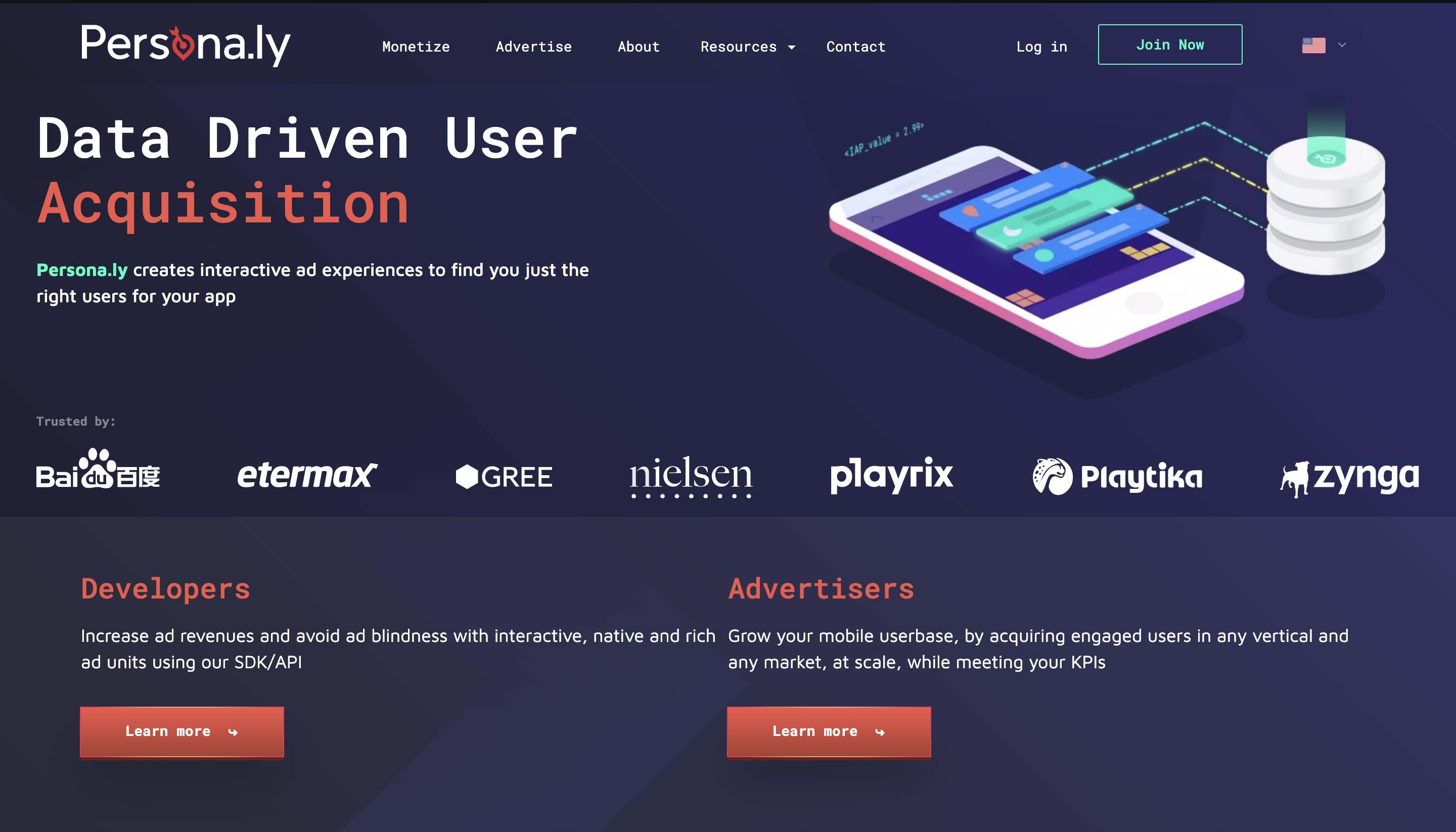 Persona.ly is an ad-tech company focused mainly on providing mobile solutions to help apps grow their mobile user base and acquire engaged users. Based in countries such as South Korea and China, Persona.ly offers playable ads that help attract users with interactive content.
Propeller Ads is a full, self-service advertising network, that uses automated ad optimization and fraud prevention to ensure that advertisers get high-quality traffic. They offer several ad formats such as push notifications, onclick ads, and native ads, allowing you to deliver your key messages effectively.
Quantcast is a technology company established in 2006 that specializes in AI-driven real-time advertising, audience insights and measurements. The company boasts accurate audience measurement to over 100 million web destinations. With 20 petabytes of data of data processed per day and over 20 offices in 10 countries such as Singapore, Quantcast vast global outreach is ideal for all kinds of advertisers.
SmartyAds offers comprehensive adtech solutions to achieve results, such as a customer data platform, data management platform, and demand side platform. With offices in Malaysia and China, they're an excellent option if you're looking to reach audiences across multiple channels and ad formats.
Boasting over 140 million users, Spotify is one of the largest streaming companies in the music industry; in fact, you're most likely using this app too! About 50% of Spotify users have free accounts, which is where advertisements step in. The average user streams 2 hours daily, and Spotify's real-time streaming data allows them to tap into the personalities and activities of these users, making it a very viable platform for you to reach out to your target audience.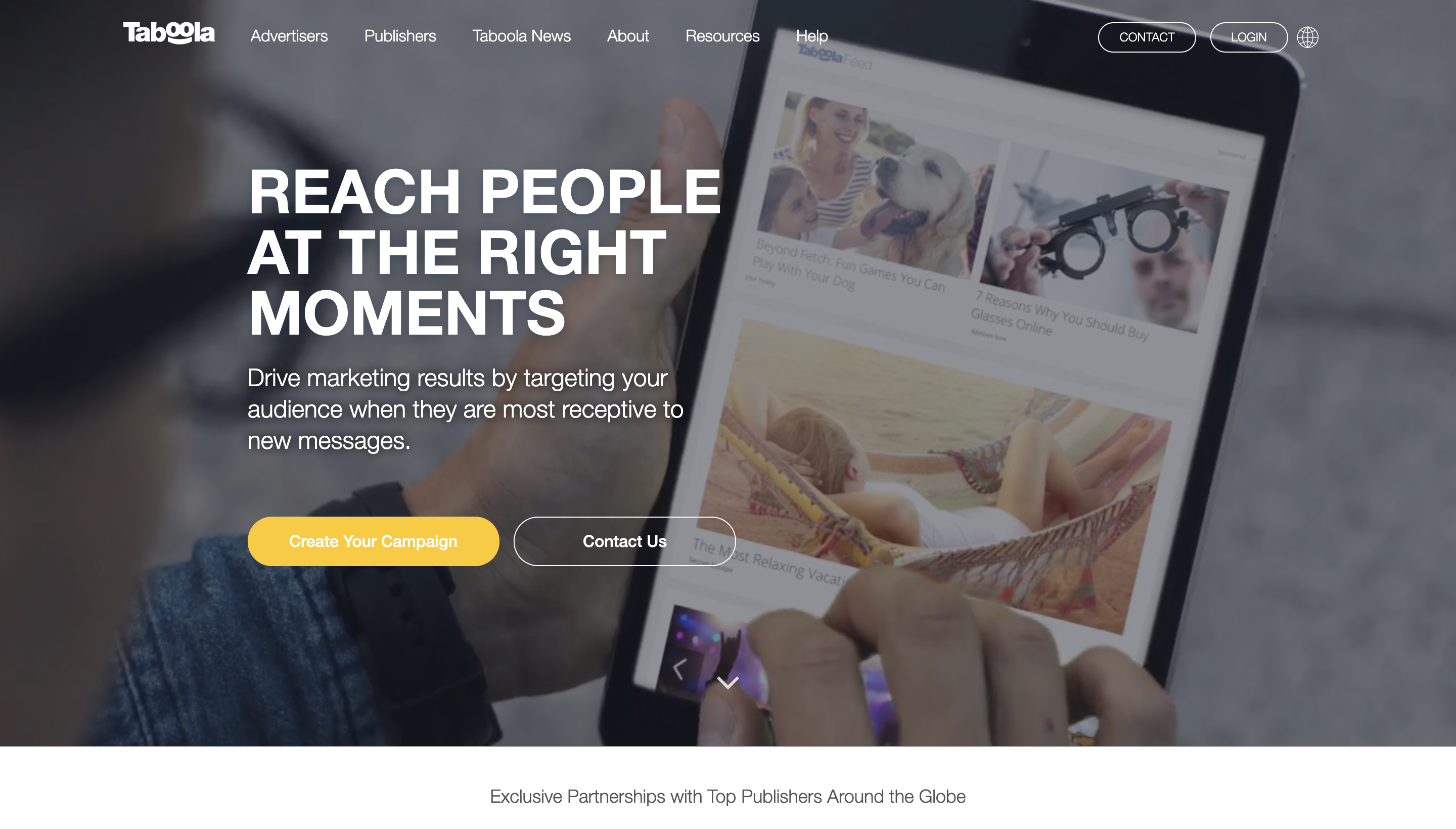 Taboola is one of the finest discovery platforms worldwide with over 10,000 premium publishers and brands and 44.5% of the world's internet population reached. Advertisers can expect their content to be recommended to their audience in-feed across thousands of premium publishers and seamlessly recommended on the world's best websites, which entails the establishment of a good reputation associated with the product. With offices in countries such as China, Japan and South Korea, Taboola boasts flexible ad creatives which allows you to utilize any assets that you want your audience to see– from existing video content, or content ads, to positive news about their brand.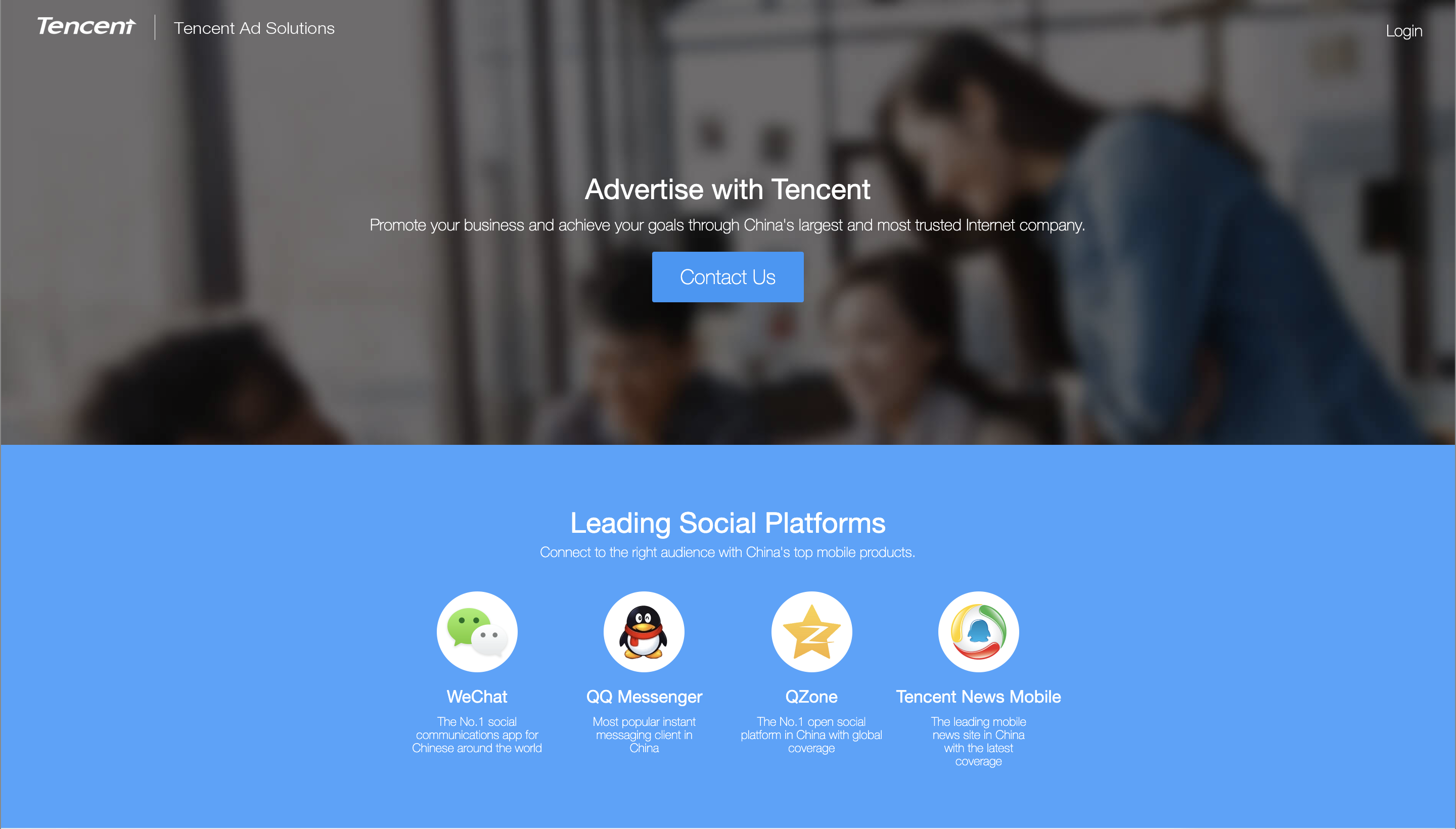 If you're looking to target audiences based in China, an effective way to do so would be via mobile apps, and Tencent is an excellent option. With products such as WeChat and QQ Messenger, they have the ability to reach and engage a significant proportion of Chinese netizens.
Yahoo! has kept its popularity as it is the sixth most visited website in the world according to Alexa. You can use the engine's advertising network to reach over 1 billion active monthly users and target them based on geography, age, and a number of other demographic factors; there are so many possibilities. This customization function is crucial, as you can reach exactly who you want to reach, and Yahoo! offers various modes of advertisement such as search ads, video ads, and more.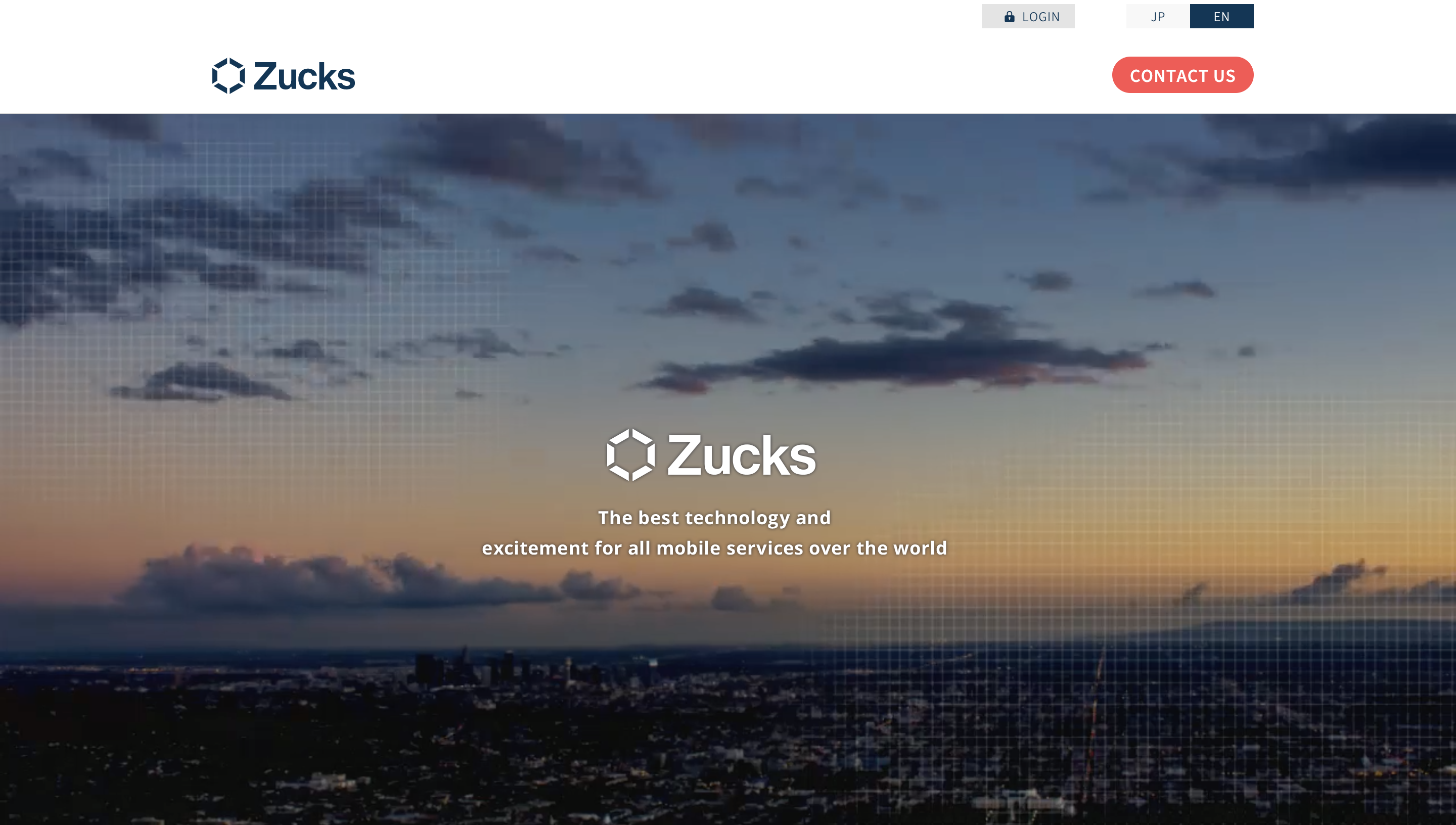 Zucks is a Japan-based mobile advertising platform with a strong presence in the Asian mobile market. They offer a large number of campaigns supporting iOS and Android, driving app downloads as well as CPI, CPA, and CPC. It reaches over 10000 users each on Android and iOS, and can deliver incentivised and non-incentivised ads, which is great if you're targeting mobile users.