Some marketers believe search engine optimization only works for consumer brands (whut?!)
I was recently speaking with the owner of a manufacturing firm. He was adamant that his audience didn't use search engines to search for his services, and that SEO wouldn't work for his B2B industry.
But B2B SEO holds a wealth of market potential. Ranking well for your audience's searches means putting your brand in front of them at each stage of your sales funnel.
Here are 21 ways to do it right.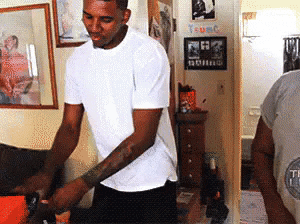 21 SEO Best Practices for B2B
1. Establish Your Ideal Buyer Persona
This first step is crucial for your success. The goal is to determine who you'll be targeting with your efforts.
Most of your SEO efforts will involve creating content that connects with your audience. Not having an intimate understanding of your ideal audiences will result in content that doesn't help them.
Many businesses get deep into SEO and content marketing execution before realizing they have no clue who their ideal buyer should be.
Fortunately, you don't have to start from scratch. You can follow our step-by-step process to define your ideal buyer personas.
You'll want to nail down a few key attributes:
Job title and responsibilities
How their job is measured
Challenges they face
Goals and objectives
How they make decisions
Hubspot's free Make My Persona tool can be a big help here.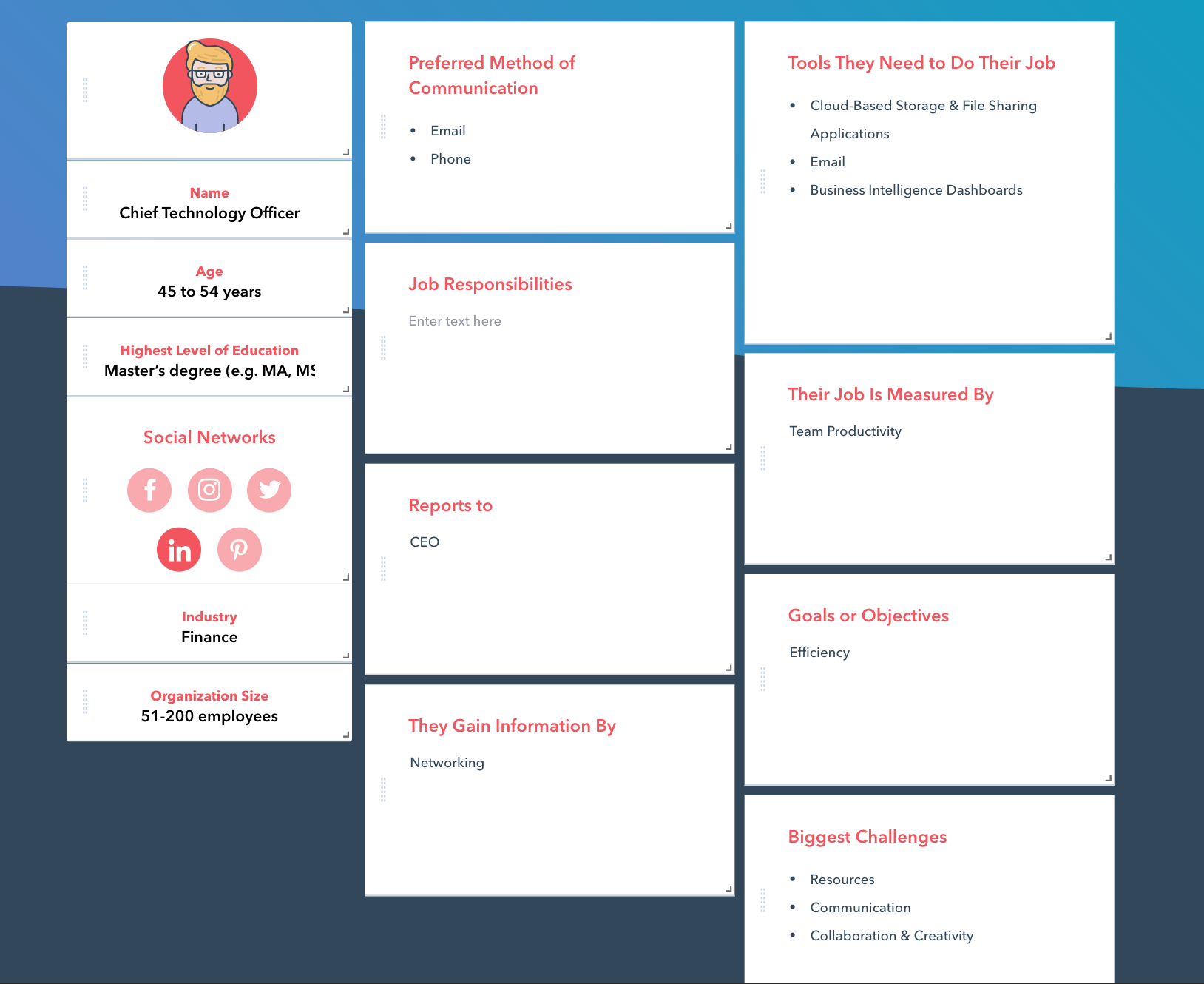 Hubspot's tool makes it easy to visualize your ideal persona
Once you have your ideal buyer persona figured out, you'll create an editorial calendar to ensure you're creating engaging content that they're looking for.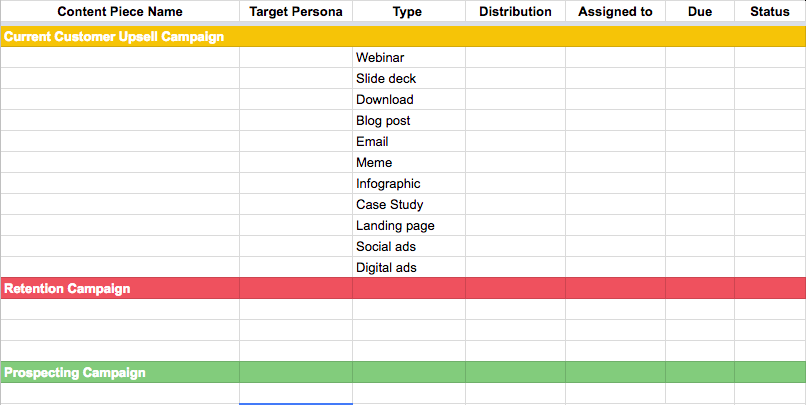 An example of an editorial calendar broken down by target persona
2. Be Aware of Each Decision Maker
Most B2B purchases involve multiple people. Complex solutions could involve 6-10 decision-makers.
A good B2B SEO strategy means considering the questions, needs, and searching habits of multiple parties.
Consider the manager, the practitioner, and other stakeholders. Ask yourself what they may be searching for when researching your product or service. What challenges or questions will prompt their initial research? Further down the funnel, are they interested in features, case studies, or pricing?
You may find a marketing director is looking for educational information or tools while a purchasing manager is searching for pricing and ROI.
Marketing tech companies like Hubspot know their job isn't only to convince the CMO to buy their products, but also the CFO, CTO, and marketing practitioners. This is why they create a broad range of content that ranks for over 1 million keywords and appeals to each decision-maker at the table.

Hubspot ranks for over 1 million keywords catered to a variety of decision makers
They rank for searches catered to marketers like "buyer persona tool" as well as more CFO-focused searches like "content marketing ROI" and "Hubspot vs Salesforce."
3. Perform Topical Keyword Research
Keyword research is a staple of any SEO strategy. But when it comes to B2B SEO, you should start broad. Begin your process, not with a list of specific keywords you hope are relevant, but instead, focus on targeting relevant topics or themes to develop content around.
This means spending more time learning about your audience, topics they're interested in and examining how Google understands these topics.
Plug your topics into a tool like Ubersuggest to get more specific and targeted keyword ideas. You can then bucket these keyword ideas by persona and funnel stage (more on this below).
For example, a payment processing company shouldn't start by going after the perfect long-tail keyword like "how to configure a POS system" and hope it winds up being relevant.
Instead, they should explore the broad topic of "payment processing," do some research, and then begin drilling down on target keywords from there.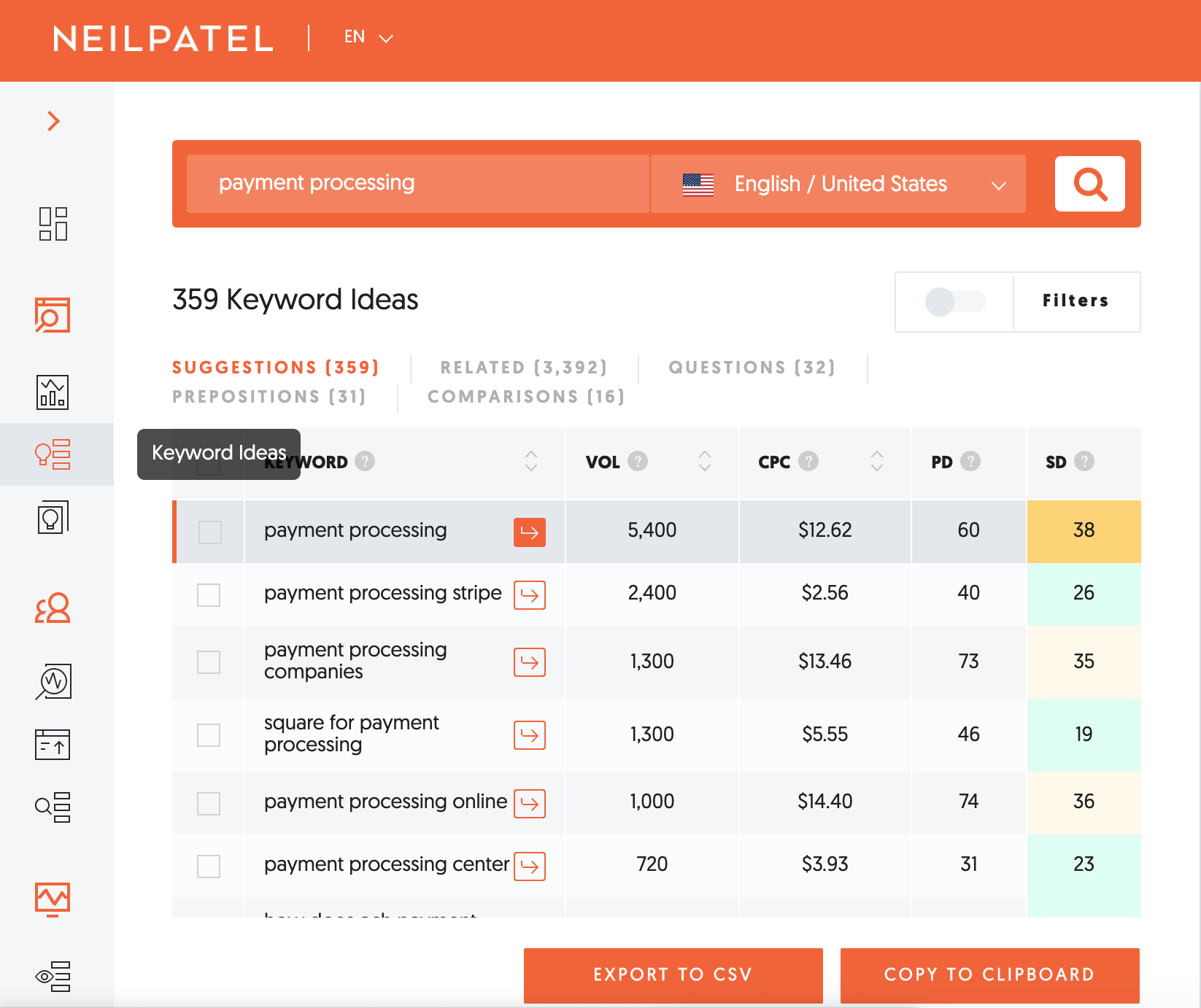 Once you have some ideas, you should look for relevant keywords with high volume and low difficulty (SD stands for SEO Difficulty). These will be your best starting place for B2B SEO.
4. Identify Bottom of Funnel Keywords
Once you have a good understanding of relevant topics and themes, it's time to begin drilling down on specific keywords. If you're just getting started with a B2B strategy, the bottom of your funnel is the best place to begin.
Consider the keywords people search for when they're ready (or almost ready) to buy. In the buying stage, decision-makers are typically looking to validate companies on their shortlist and determine their potential cost. These keywords might include modifiers like:
[company] cost
[company] pricing
[company A] v.s. [company B]
[company] case studies
[company] demo
[company] free trial
Again, you can use a keyword research tool like Ubersuggest to begin identifying specifics beneath your topic. Once you have your bottom of funnel keywords selected, it's time to map them to pages. In other words, decide which pages you'd like to rank for the terms.
These buyer-intent keywords and phrases typically make sense to be mapped to product pages, services pages, pricing pages, and comparison pages.
Back to our Hubspot example, they have comparison pages ranking for the majority of their competition.
Hubspot's product comparison content in search results
5. Identify Top of Funnel Keywords
Once you've got your B2B SEO foundation at the bottom of the funnel, it's time to build up with top of funnel keywords. These should also begin with topics and themes your audience is interested in.
Top of funnel B2B keywords center around education. At the very top, your audience is asking general questions and probably aren't yet aware they have a problem. As they move into the funnel, they're identifying what needs to be fixed and beginning to identify solutions.
You will map these top of funnel keywords to blog posts, resources, tools, or other educational marketing collateral.
Our hypothetical payment processing company will likely target top of funnel keywords like:
how to process credit card payments
how to choose a POS
how to save money on credit card processing
6. Don't Fear Low Volume Keywords
With traditional keyword research, marketers tend to look for high volume, low competition keywords. These are still a goldmine for B2B SEO, but keywords with the largest search volumes often aren't the best targets for your business.
For example, a search like "what is accounting" gets over 12,000 searches per month. But do you think a financial professional in need of B2B accounting services would ever search for that? Probably not.
Business decision-makers aren't interested in generic content. They will typically be looking for solutions to particular problems that aren't searched for very often.
But rest assured, almost 93% of searched keywords get ten monthly searches or fewer: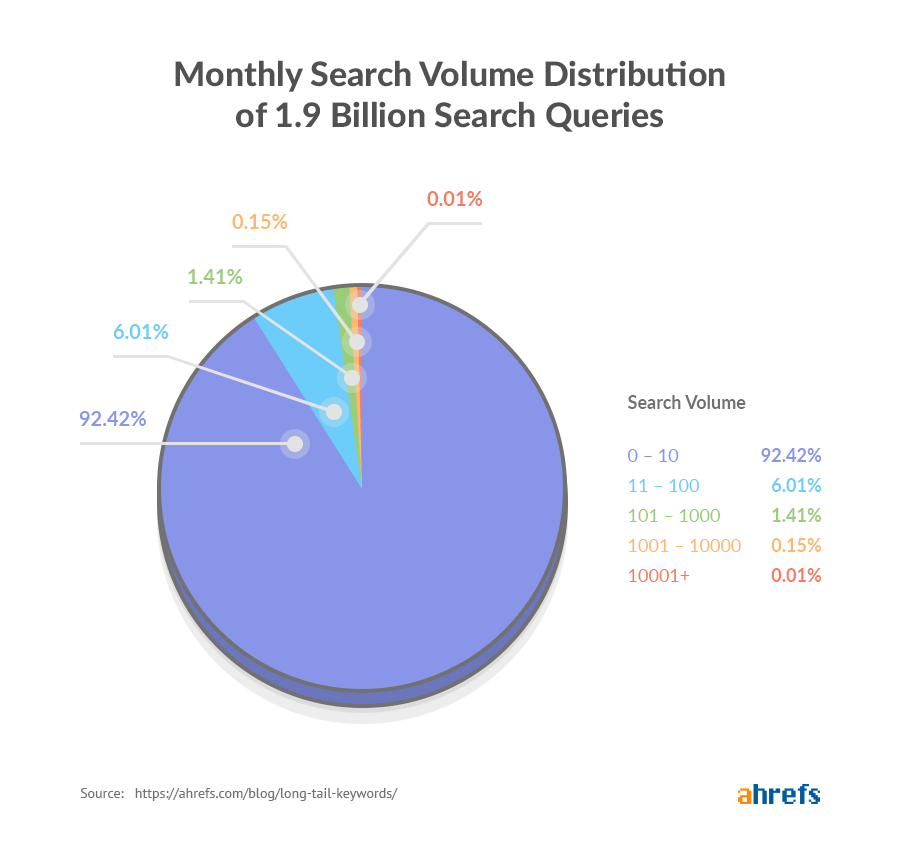 Most keywords have low search volumes
One such keyphrase is "tokenization in payment processing."
This is a very specific question. Only ten people are searching for it each month. But helping a business owner or CFO solve a payment processing problem dealing with tokenization could earn you a small but steady monthly stream of warm leads.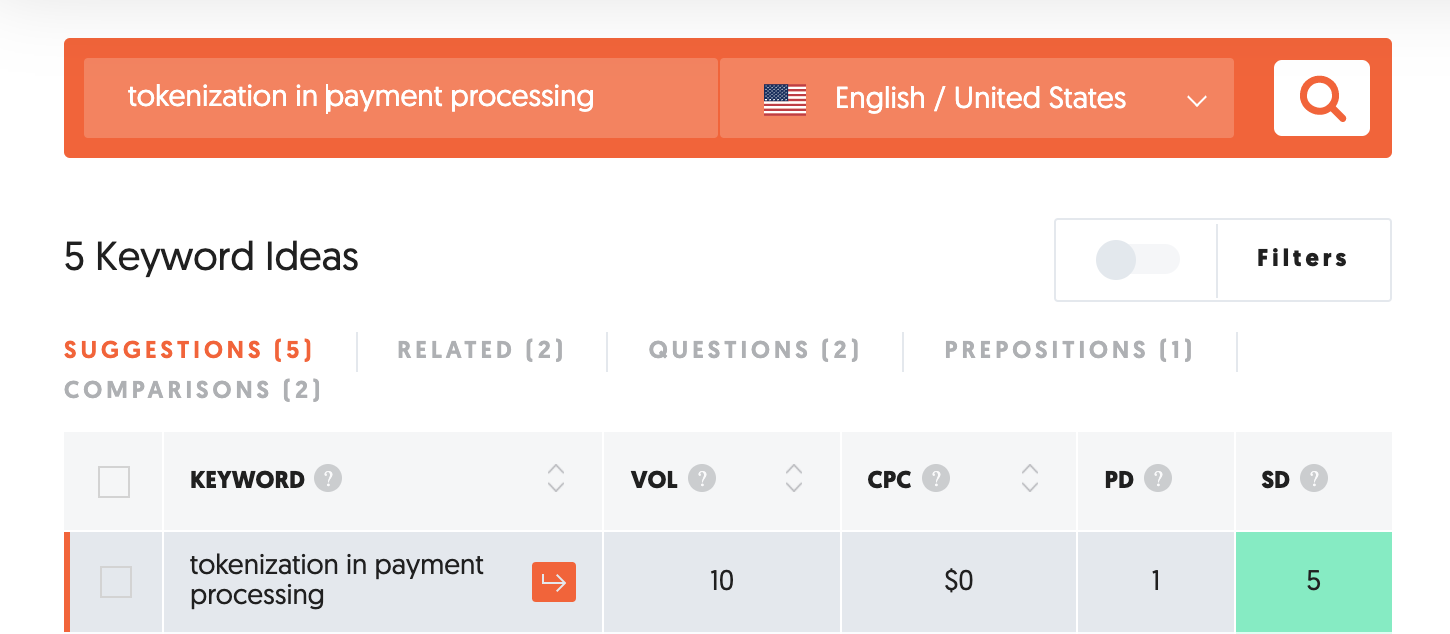 Low volume keywords can produce valuable leads
7. Capture Top of Funnel Traffic with Tools
Not every keyword has to be targeted by a blog post or guide. Tools provide a great way to target practitioners at the middle and top of the funnel in search.
Consider your top of funnel topics and keywords and ask yourself which of these could be answered by a tool. Practitioners at your target companies would prefer to use a free tool rather than read a 3000-word guide on doing the task themselves.
For example, a commercial accounting firm might create a tool to help financial professionals calculate end-of-year taxes. Or a construction company might put together a calculator to determine how much an upcoming project might cost.
These tools don't have to be robust. Simple, lightweight tools can often be built by developers for fairly cheap. You can also find plugins to serve as tools at codecanyon.net.
Free B2B Content Strategy Template
Not sure where to start when it comes to your content strategy? Struggling to gain traction? Grab our free B2B content strategy template to help you document your strategy.
DOWNLOAD NOW
Another good example comes from SEO platform Ahrefs. They rank #1 for "free link checker" and provides a valuable tool. Though this searcher isn't quite ready to buy, they're now aware of Ahrefs.

8. Don't Underestimate the Power of Backlinks
A backlink is a link on another website pointing to your own. Google uses backlinks to gauge a site's trustworthiness and authority on a subject. Many see backlinks as one of the most powerful ranking factors.
And they are just as powerful in the B2B space as other industries. More links generally correlate with higher rankings. If going after low volume, low competition keywords, you might not need to invest heavily in building links. But you will need some.
The #1 result in Google has an average of 3.8x more backlinks than positions #2-#10. Outside of rare occasions, link building make the difference in ranking well and getting stuck at the bottom of the page.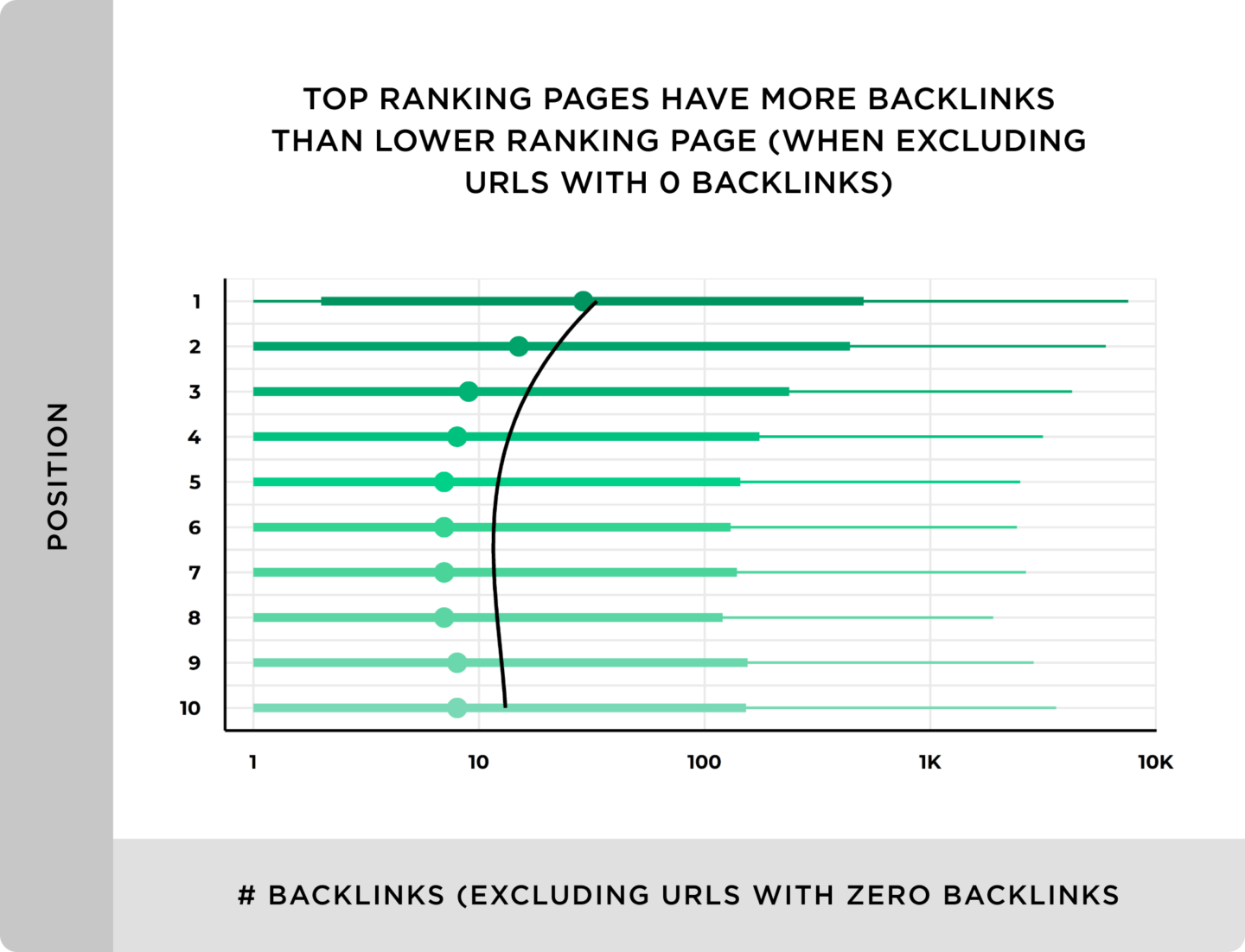 More backlinks correlate with better rankings
9. Target Partner Pages for Easy Backlinks
Partner pages present an excellent opportunity for link building. A partner page is a web page where businesses will showcase their partners – often to build their credibility. It's helpful for them but can also benefit you.
Cloud consulting firm GFT dedicates a page to showcase and link to each of its technology partners.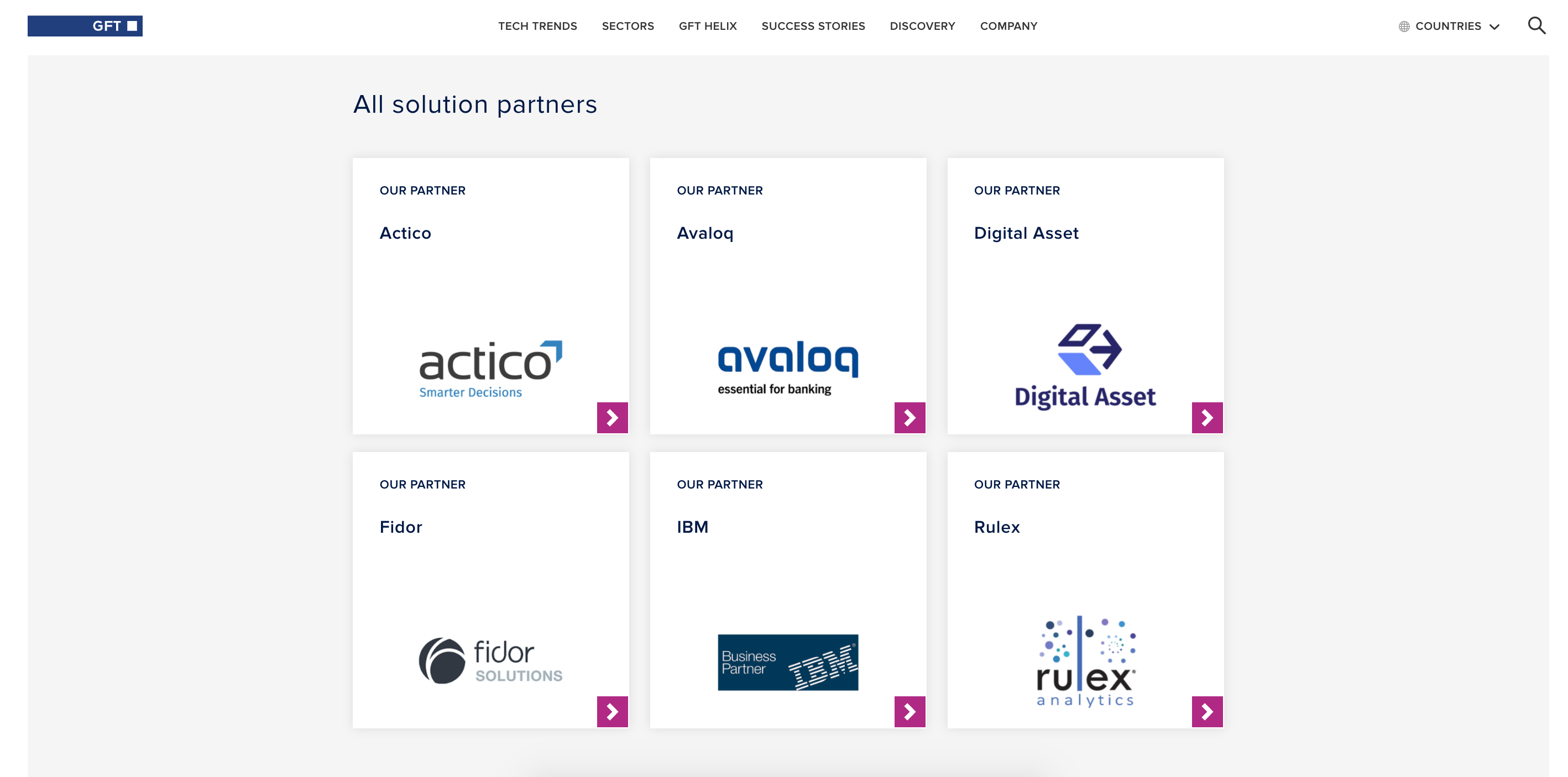 Services-based businesses and nonprofits tend to do the same. So if you're looking for some low hanging links, consider your partners, network, and any philanthropic efforts. Locate those who have partner pages but don't yet link to you. If you're a valuable partner, it's an easy ask.
10. Attract Links with Expert Content
Valuable, expert content can often serve as a link magnet. Why? People prefer to link to references that add value to their audience. Some of the most linked-to content on the web is original industry content and research.
A great example comes from Hubspot, who performs yearly surveys of the marketing industry. This survey is turned into an annual State of Marketing report. This report is full of rich industry insight, so not only is it helpful for their audience, it's a very linkable asset.
Another example is this piece on video marketing that has earned Brew Interactive over fifty backlinks. Why? It's an in-depth piece that others want to reference.
11. Earn Links with Infographics
Infographics are great link magnets for B2B. An infographic is a collection of imagery, charts, and minimal text that gives an easy-to-understand overview of a topic. People love infographics because they're easy to digest and much more enjoyable than reading a long blog post.
Not only do infographics earn links, but they also frequently get shared on social media.
Brew Interactive worked with Hitachi Asia to create infographics to illustrate how its technological products play a crucial role in resolving social issues to attract policymakers and business owners.
12. Showcase Your Expertise
E-A-T (Expertise, Authority, Trust) is a hot topic in SEO right now. Google continues to harp on its importance in determining page quality and rankings. But how does Google determine if a site inhibits E-A-T?
Backlinks, brand, and credentials play a significant role, but website authors do as well. It's essential to establish the author's credibility on any piece of content. Ask yourself, "Why would I trust this source on this subject?"
Sage Asia does a great job of highlighting their authors' credibility on all blog posts and content.

Make sure you're calling out your author's credentials and qualifications – whether they're on your team or a guest contributor.
Not only can focusing on E-A-T build trust with search engines but with users as well.
13. Optimize for Site Speed
Content and links are only part of the SEO battle. Some technical optimization is required if you expect to grow your funnel through search.
As with many of these tips, site speed is helpful for search engines and users. Nearly 50% of web users expect a page to load in 2 seconds or less. The entire page doesn't necessarily have to be loaded – your focus should be on FCP (First Contentful Paint) and TTI (Time to Interactive).
You can use Google PageSpeed Insights to get a feel for how you're doing. If your page speed is struggling, talk to your developer or find one to optimize your site.
Shell Global's site is interactive within 0.8 seconds, and it shows through their nearly 200,000 ranking keywords.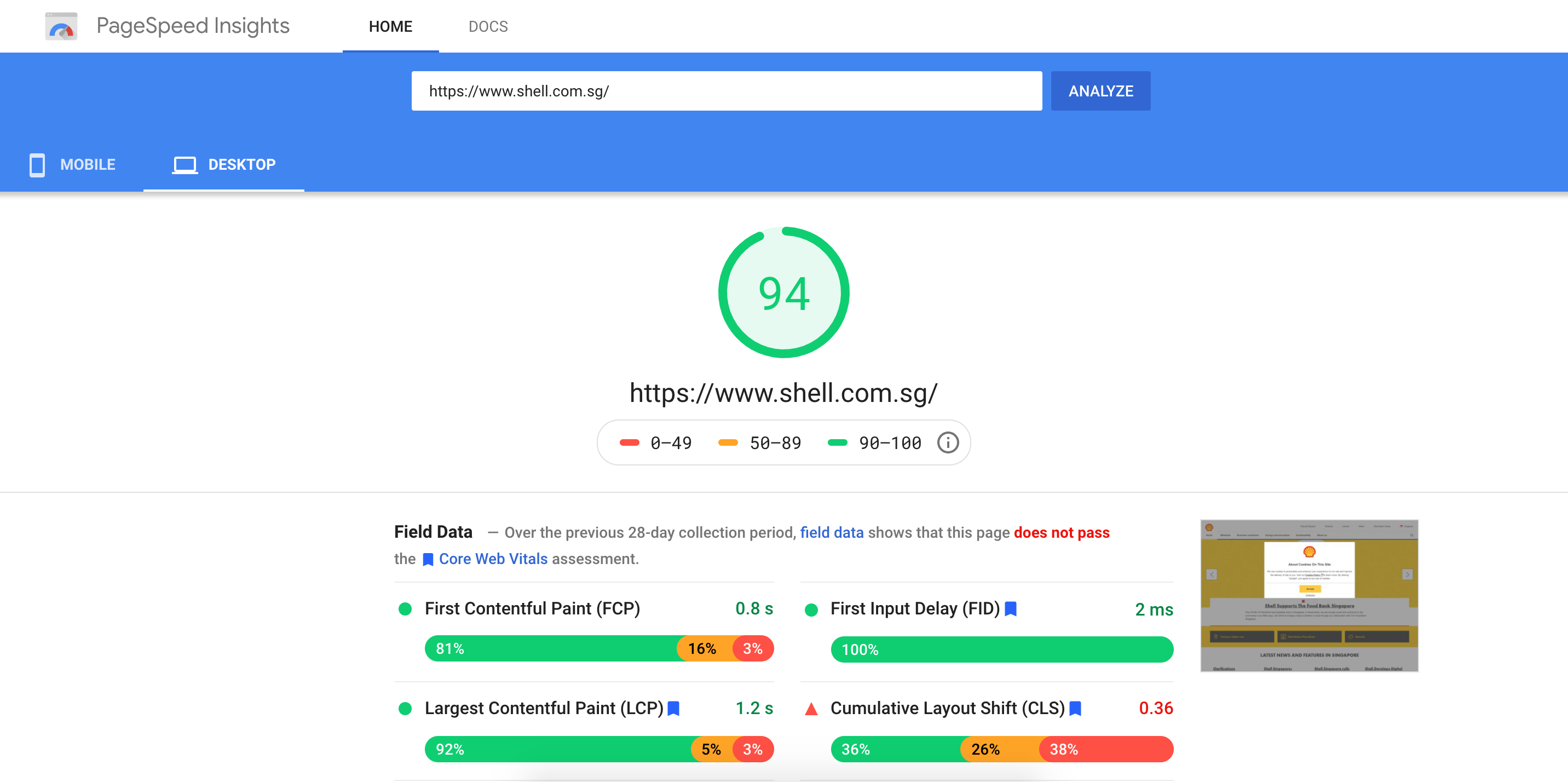 Shell Global's page speed from Google PageSpeed Insights
14. Prioritize the Mobile Experience
52% of all global online traffic comes from mobile devices.
Optimizing the mobile experience of your website has been vital for some time now – and nothing has changed. Google began indexing sites based on their mobile (or responsive) versions in 2018. This means your user experience on mobile is even more important than desktop for SEO.
If you want to know how your site is doing on mobile, check out Responsinator, which allows you to easily check out your site on different mobile devices. And if your site is connected to Google Search Console, they will often alert you of mobile issues.
To optimize for mobile, you can use a mobile-specific version of your site, or you can take advantage of responsive web design. Responsive design means your site responds optimally to any sized device.
Fuji Xerox's homepage seamless, responsive design looks great and works effectively on mobile devices.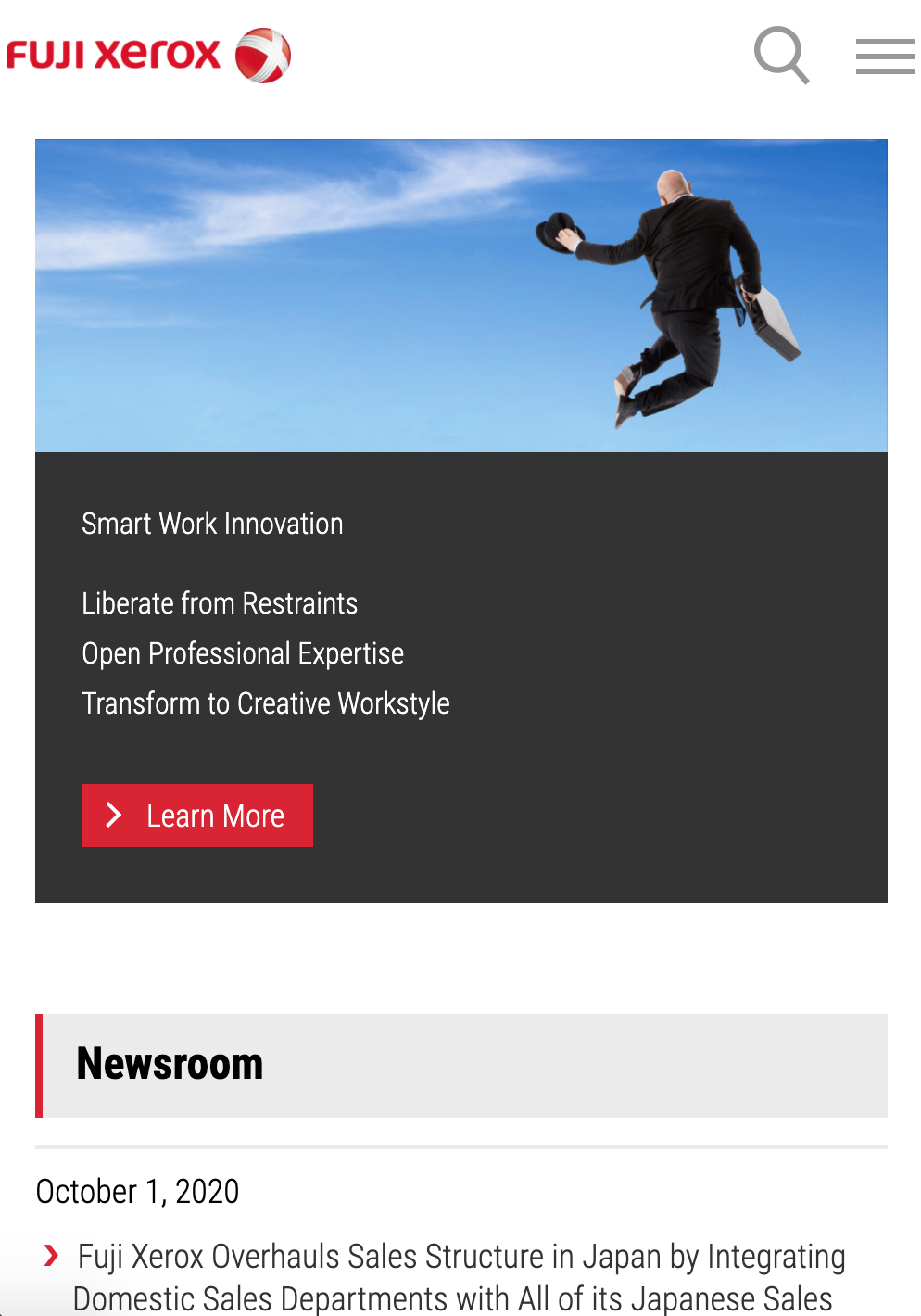 15. Create Effective Landing Pages
Once a searcher clicks on your search result, how they interact with the landing page can help or harm your rankings. It has long been debated whether or not bounce rate or time spent on site impact rankings, but many SEOs believe so.
Dedicate your landing pages to engaging your user and keeping them on your site. Providing great content and helpful next steps won't just help your rankings, but will also help you generate leads.
At a minimum, provide calls to action for your users. Consider what stage of the funnel they may be in. A top of funnel blog might benefit from a content download, whereas a services page should guide a user to contacting sales, requesting a quote, or starting a conversation.
Dassault Systemes' product pages contain quick links to help users find other helpful content and "Contact Sales" call-to-actions that float with the user through the page. These are helpful next steps that engage the user and keep them on your site.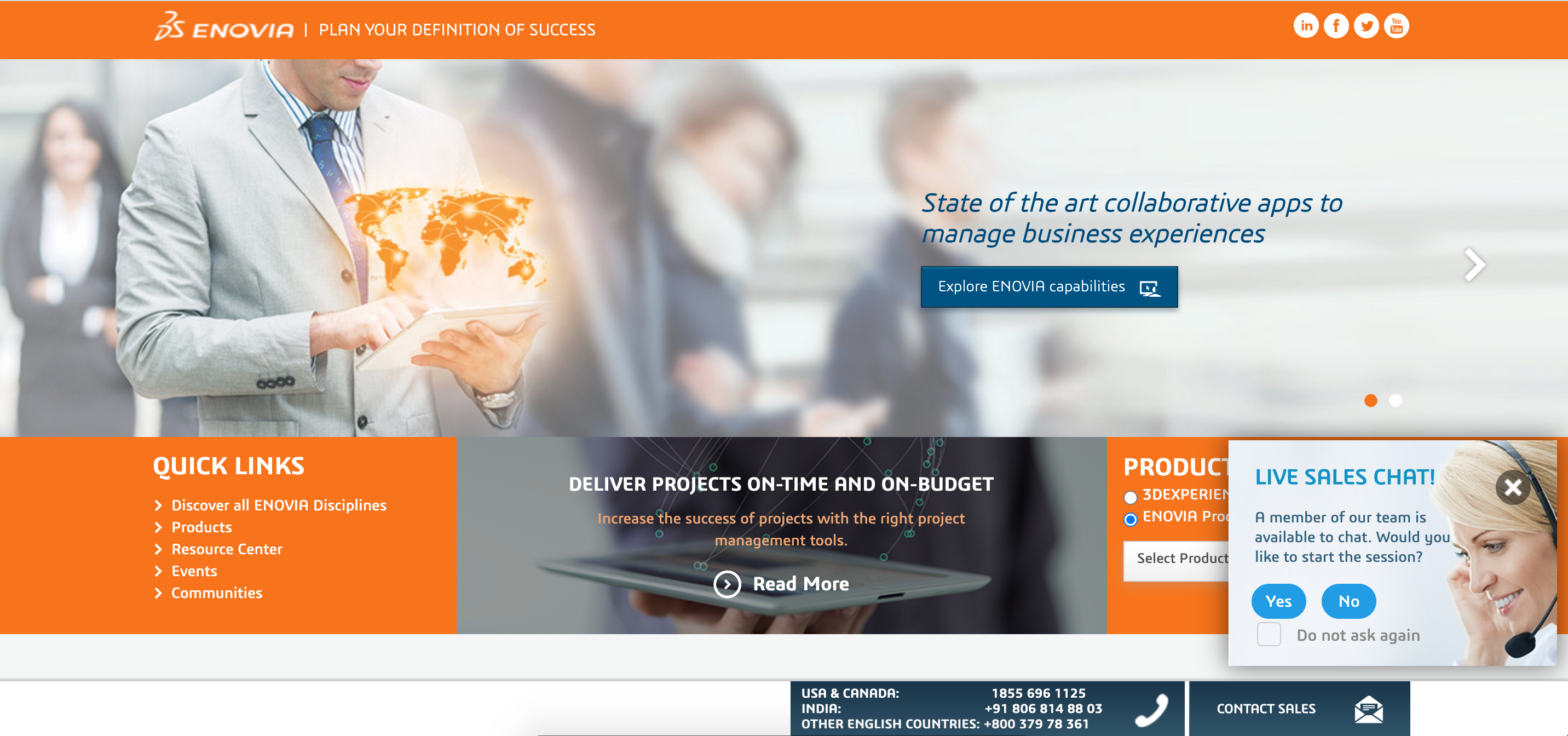 16. Use Natural Language in Copy
Many SEO marketers write poor copy that's more focused on Google than it is humans. They tend to use "SEO language" that isn't naturally written.
But Google continues to advance its use of natural language processing – and other search engines are following suit. Their growth in this area means they're getting better at understanding the way humans speak.
A popular example of this involves the search "brazil traveler to usa need a visa." Google used to display a post about US citizens going to Brazil. But the search is clearly about a Brazilian. Now that Google understands the importance of "to" in that sentence, the results are more relevant.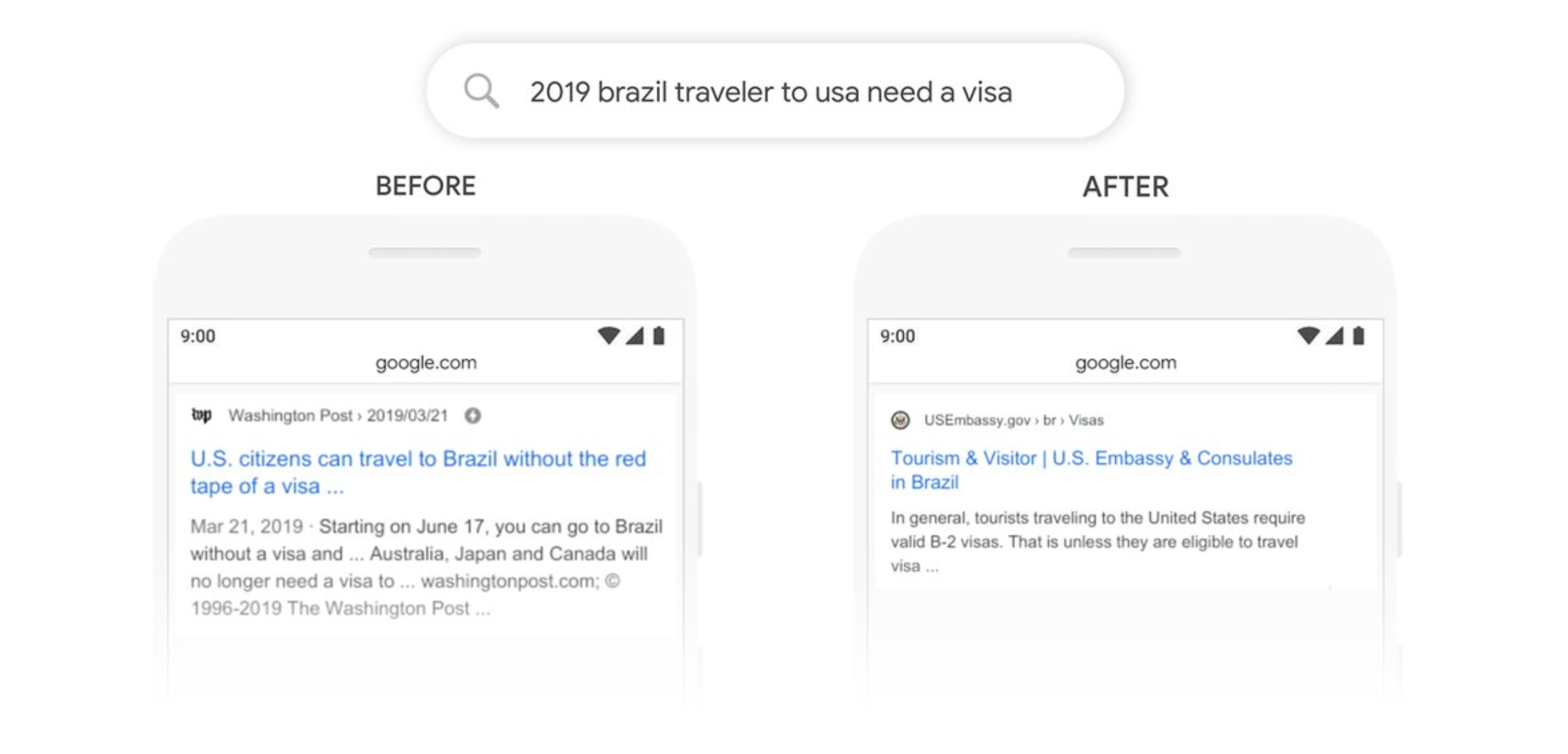 Example of Google's natural language processing in searches
There's no real way to "optimize" for natural language. Instead, write for users and cover semantically related topics in your content.
For example, Sage's article on restaurant startups covers many semantically related topics like one-time costs, ongoing costs, and equipment costs – giving Google a better understanding of the subject and earning it a #1 ranking for some competitive phrases.
17. Leverage Schema Markup
Schema is a markup that helps search engines understand your website, brand, and content. Over ten million sites use schema markup to optimize their sites.
Schema can also be pulled into search results to help your results stand out. You can use schema for FAQ pages, events, people, and much more.
We implemented schema markup for Jonite.com's product pages, resulting in more real estate and search traffic.

18. Go After Featured Snippets
Featured snippets are search results featured on top of Google's organic results (below ads) in a box. Click through rates for featured snippets are often significantly higher than the traditional #1 ranking.
To earn featured snippets, your page must be ranking in the top few results of the search. Once identified as relevant, it must also clearly and succinctly answer the query in question. One popular tactic is to include a question you want to rank for in a heading and immediately answer it.
Sage capitalized on an opportunity and earned a featured snippet for "gross pay" which has over 27,000 monthly searches.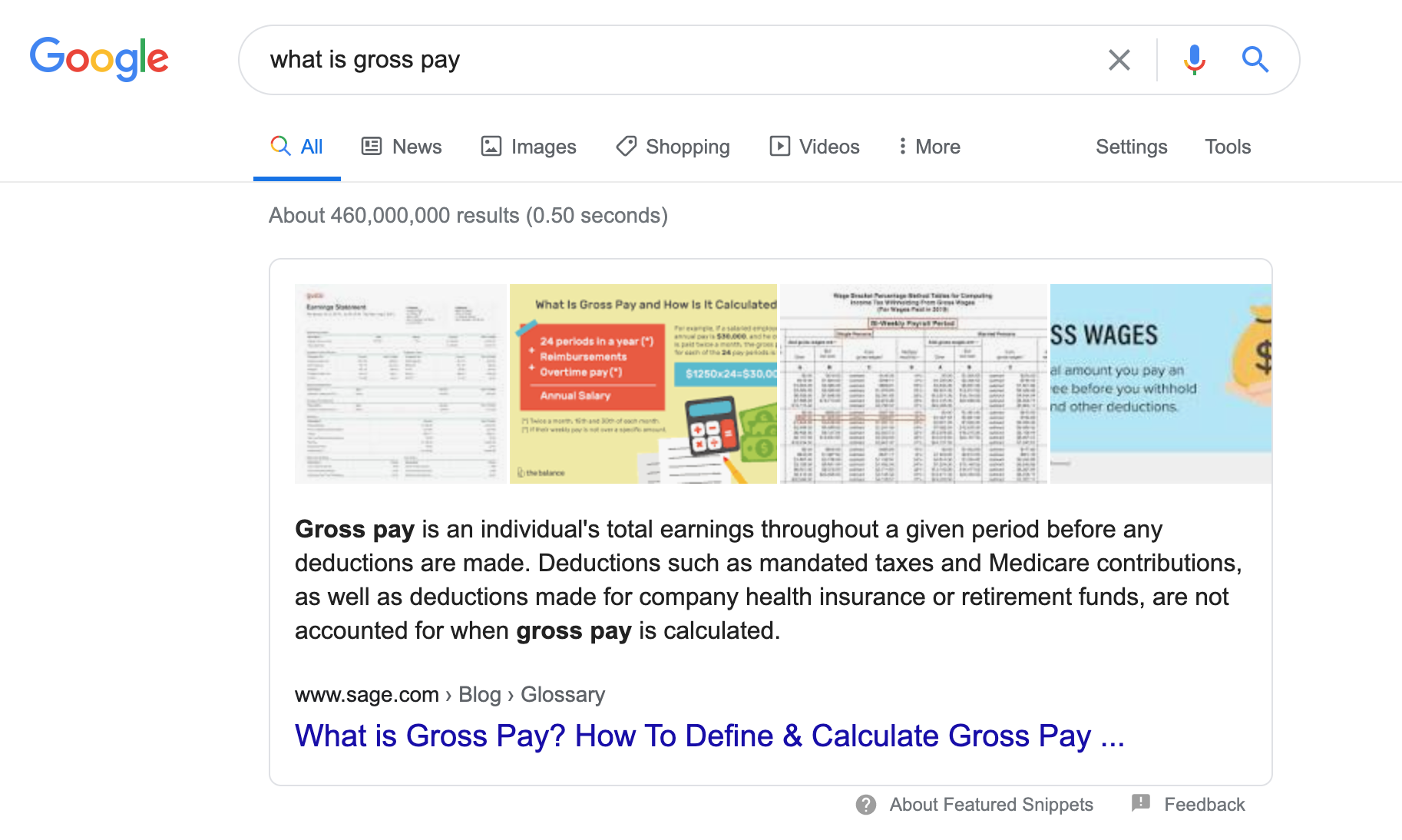 19. Boost Content on Social Media
Though likely not a direct ranking factor, social media can impact search rankings and promote your content. Done well, it can spread your content far and wide.
When creating content for B2B SEO, focus on making your articles shareable. Use enticing titles and cover topics your audience is desperate to know more about.
And don't forget to choose your platforms wisely. For example, if your content is primarily visual, don't spend too much time on Twitter.
Jonite, a stone architecture company, shares and promotes projects on Pinterest. Their pins drive engagement (nearly 600,000 monthly viewers) and benefit their SEO efforts.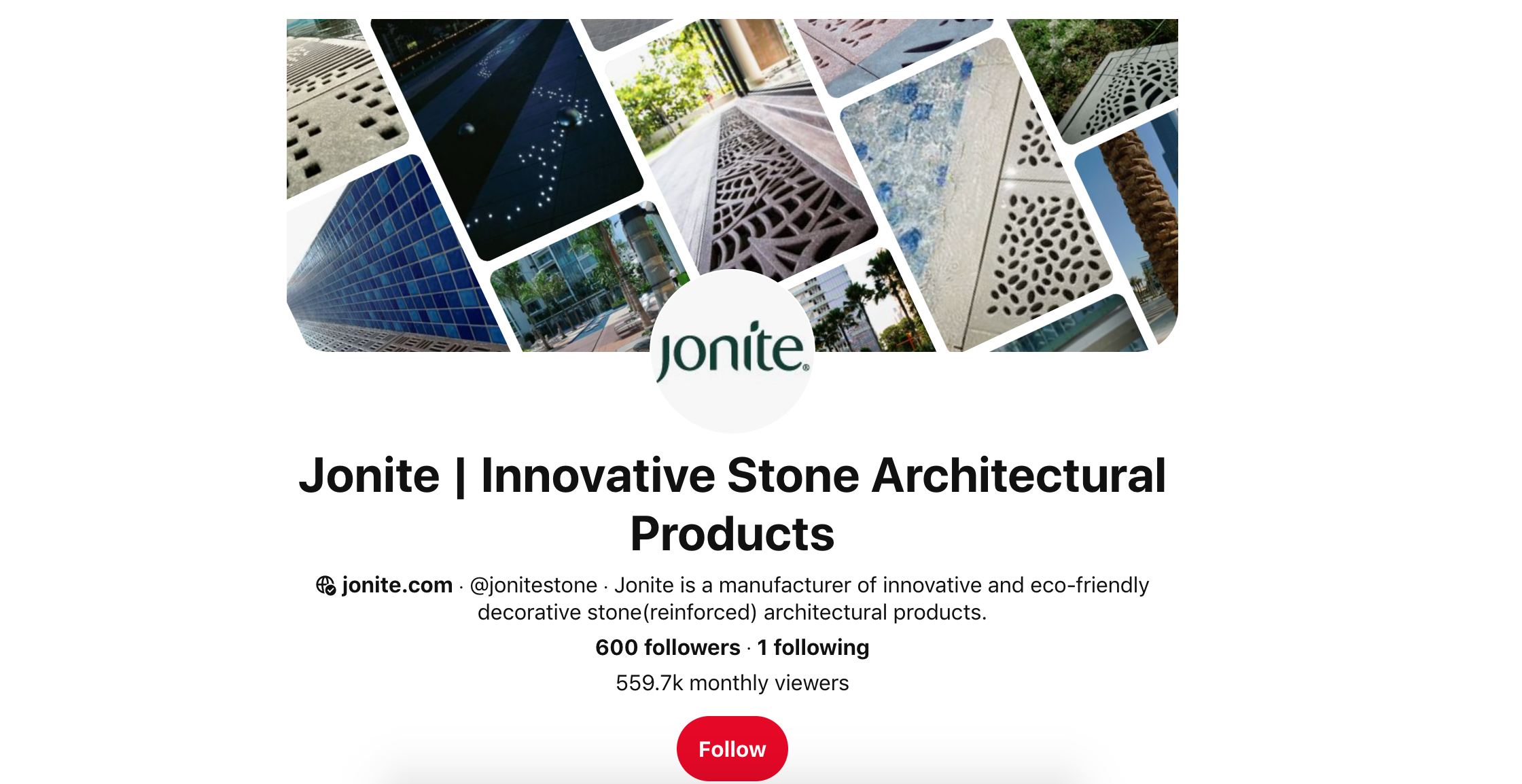 20. Don't Neglect Voice Search
Gartner believes that by the end of the year, at least 30% of all searches won't take place on a screen, but over some kind of voice assistant. There's a massive SEO opportunity thanks to the rise of products like Amazon's Echo, Siri, and Google Home.
For the most part, the answers these assistants give for voice searches come from featured snippets (see #18). So if you want to take advantage of the voice search revolution, make sure you're going after and ranking for featured snippets.
In addition to the tactic mentioned above, once you've identified a featured snippet you want to rank for, follow the same format as the existing snippet. For example, if it's in the form of a list, use a list when targeting it. Voice assistants tend to read off the entire list.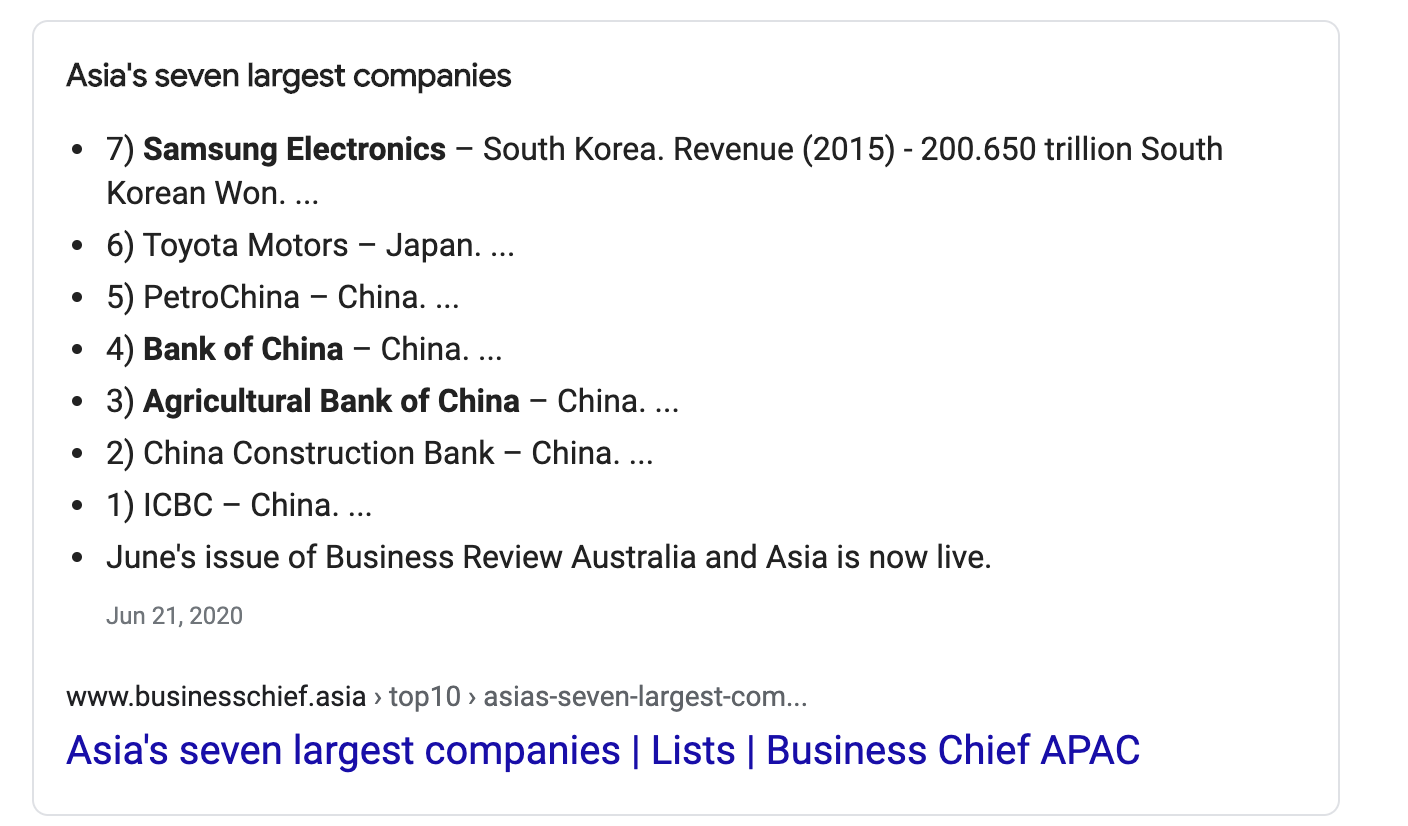 21. Consider Other Search Engines
Google owns the market share for search engines, but Yahoo and Bing are growing. Only focusing on Google could lead to regret down the road.

Keep eyes on rankings across other search engines. Consider setting up Bing Webmaster Tools to see how your site is performing there in comparison to Google.
Don't Neglect SEO for B2B
The opportunity for B2B companies is a gold mine.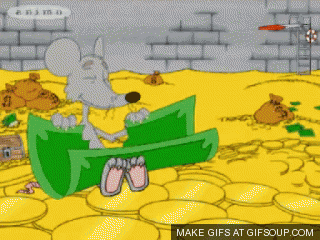 If you do nothing else,
Get to know your ideal buyer persona as well as you know yourself
Create valuable and unique content that answers their questions and meets their needs
Do those two things well, and you could be on your way to growing your funnel.
Free DataStudio Marketing Report
Improve your marketing reporting with our free DataStudio template that pulls data from Analytics, Google Ads, and Search Console to get a 360 degree view of your digital performance.
DOWNLOAD NOW