Over half of all companies in the world use some kind of marketing automation software, an industry valued at over $4 billion. The biggest softwares in the industry are Hubspot and Salesforce, but there are countless others making waves in MarTech.
But a software alone won't grow your business.
In this article, we will discuss the 10 B2B automation strategies to grow your business.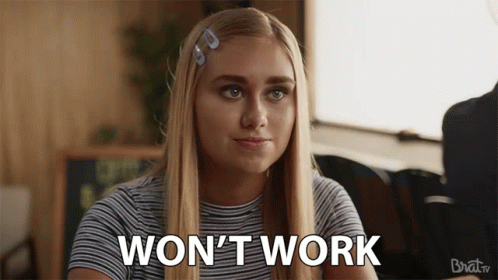 Effective marketing automation begins with strategy – regardless of the tool you're using.
When done well, marketing automation campaigns can be massively beneficial for B2B companies. Effective B2B marketing automation can help you:
Acquire more leads
Nurture existing leads
Upsell current clients
Increase efficiency and productivity
But companies only see these benefits when enacting sound strategies. Here are ten B2B marketing automation strategies to help your company experience growth.
1. Automate the Lead Follow-Up Process
Following up with leads and checking on proposals can be time consuming. Many companies assume that in order to be done well, this process needs to be full of manual touch points.
But that doesn't have to be the case. Marketing automation allows you to automate the lead follow-up process – not only saving time, but often getting deals done quicker and more efficiently
Automated follow-up strategies include real-time notifications when leads are onsite or looking at emails, reminder emails when waiting on a proposal or quote to be signed, and customized lead journeys based on engagement and site interactions.
Brew Interactive helped stone manufacturing company Jonite automate portions of their follow-up process.
Using Hubspot, our team created a sales pipeline to streamline their process and sales reports to help us assess performance. Because their sales cycle at times lasted up to two years, we set out to accelerate the process with two key strategies.
First, we set up real-time notifications to alert us any time a lead was on the site or reading emails. This gave us valuable insights that could lead to timely follow-up calls.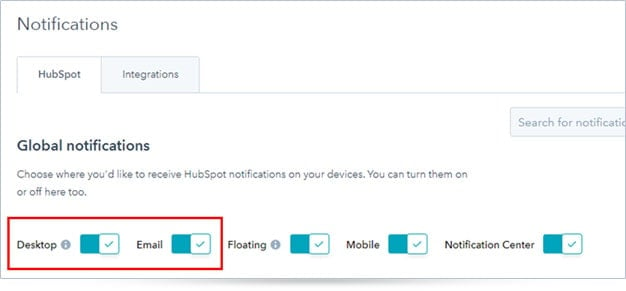 Hubspot real-time notifications help sales reps time follow-ups.
Second, we created a consistent follow-up workflow after a lead received a quote. This automated the tedious task of following up with leads to check for updates.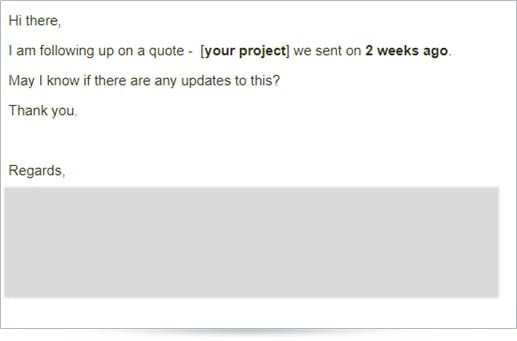 Automated email follow-ups in Hubspot.
This strategy streamlined Jonite's sales process. It made follow-ups more consistent, timely and relevant, resulting in sales reps closing more deals in less time.
Additional Tactics for Lead Follow-Ups
Include a calendar link for the lead to schedule time for further discussion, without having to go back and forth with possible times.
Personalize the follow-ups with local information to increase response rates. For example, "I hope things are going well in [insert region]."
2. Use Lead Scoring to Identify Warm Leads
Qualifying leads is another time consuming task. But rather than calls or guesses to determine where a lead is in their lifecycle, you can streamline this process by using progressive lead scoring.
Most marketing automation softwares allow you to configure a lead's score based on pages visited, content viewed, emails opened, and forms filled.
When lead scoring is done properly, your sales and marketing teams can know who is closest to converting, which helps you focus your time on these leads and gives insight to what kinds of content or conversations they may be ready for.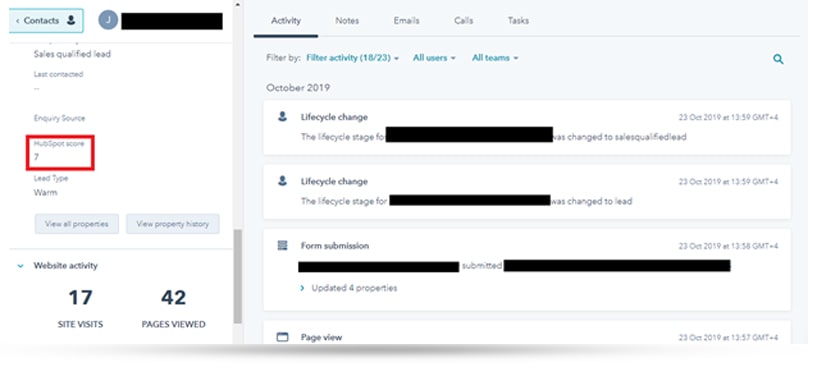 Hubspot's lead scoring helps identify warm leads.
Brew worked with ELS Malaysia to increase student enrollment conversion rates. Our team implemented lead scoring and improved their lead flow through Hubspot to identify which of their leads were closest to converting.
Students' lead scores would increase minimally while on pages detailing courses offered, and would increase significantly when on pages detailing how to apply – which indicates they're nearing a decision.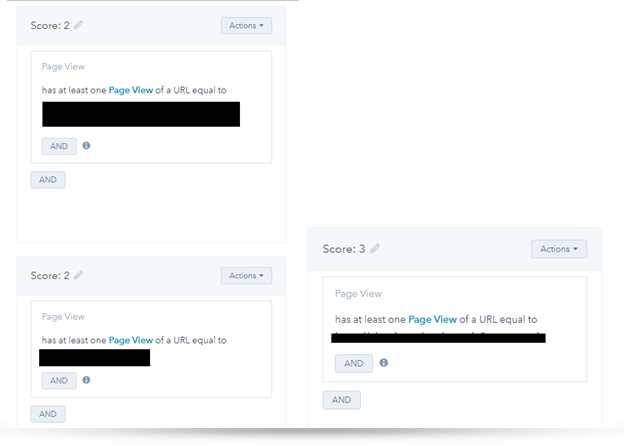 Lead scoring criteria can be based on relevant page views.
Implementing lead scoring helped ELS Malaysia boost conversion rates and ultimately increase monthly revenues.
Additional Tactics for Lead Scoring:
Be intimately familiar with your buyer personas to know what kind of behavior indicates funnel progression.
Pay close attention to where leads are in their life cycles and compare this to their lead score. Make adjustments when lead scores appear inaccurate.
3. Build B2B Email Journeys to Turn MQLs to SQLs 
Moving leads through your funnel can be difficult when done manually. In fact, plenty of companies do very little with their MQLs. It's the marketing team's job to capture the lead through content downloads and other methods, but it's not necessarily their job to nurture them.
On the other hand, sales teams are often complaining about poor leads from marketing who aren't ready to engage in a sales conversation. This is no surprise, as they haven't been nurtured.
This is why it's critical to define the customer lifecycle stages and marketing-sales handoff process. You must define what an MQL and SQL is. Once your lifecycle stages are set, you can shift your attention to moving leads through the funnel.
Automated email journeys are a perfect strategy to move leads along and speed up their life cycle. They help save your team time and help marketing and sales alignment. Nearly every marketing automation tool allows you to build automated email sequences. This gives your company an opportunity to send leads the right message at the right time.
Brew Interactive worked with St. James Place, a wealth management company, to accelerate their sales funnel and move MQLs (Marketing Qualified Leads) to SQLs (Sales Qualified Leads).
Using marketing automation tool Pardot, we built an email journey to do just that. Our journey contained a welcome email, educational content, and clear calls-to-action to move leads along in the funnel.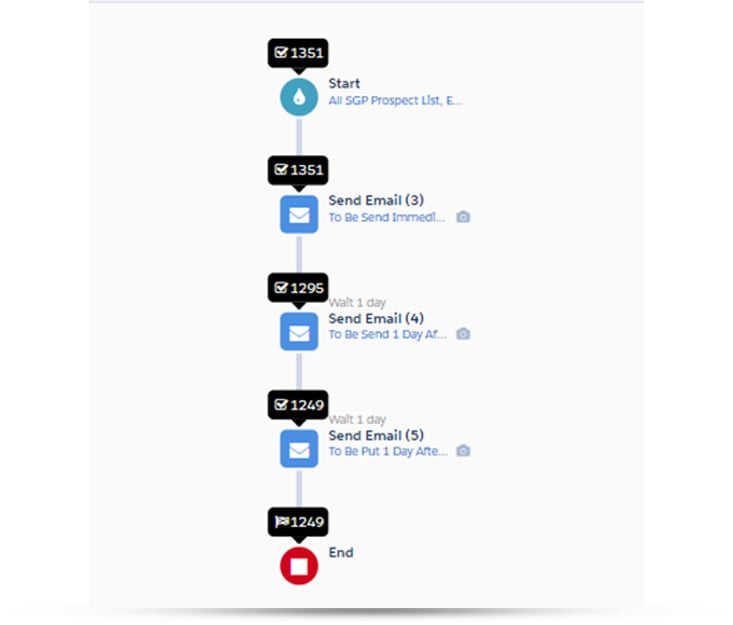 A Pardot email journey to nurture leads.
Our work increased St. James Place's MQL-to-SQL conversion rate by 78%, and their SQL to client conversion rate by 32%.
Additional Tactics for Email Journeys:
If leads are unengaged, move them into a journey focused on educational content rather than creating SQLs.
Segment your email journeys by persona to create higher conversion rates.
4. Create Targeted and Automated ABM Campaigns
ABM (Account Based Marketing) is a targeted approach to landing ideal accounts. Rather than waiting for potential clients to engage with your inbound marketing efforts, ABM adds outbound tactics to help you build relationships.
Because ABM is more focused on quality than quantity, some companies handle their campaigns manually. But many aspects can be automated, saving you time and often improving performance.
The first step of an ABM campaign is to find your target accounts. Once identified, plug your target accounts into marketing automation software to introduce your company, nurture the contact, and guide them toward qualified lead status.
Free B2B Content Strategy Template
Not sure where to start when it comes to your content strategy? Struggling to gain traction? Grab our free B2B content strategy template to help you document your strategy.
DOWNLOAD NOW
Brew Interactive helped Enovatek Solutions run a targeted ABM campaign using Pardot in order to connect with and nurture large accounts.
Once our team had a database of target accounts, we created a series of workflows intended to turn these accounts into warm leads by sending them engaging emails full of valuable content. Engaged contacts continued through the workflow and received accounts-based content while less engaged contacts were removed from the list.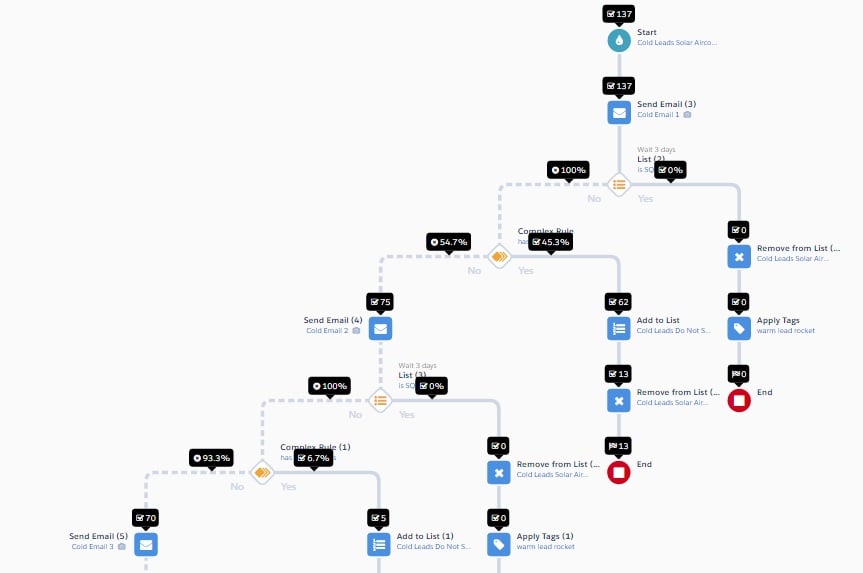 Nurturing workflows can be effective pieces for ABM campaigns
Our automated ABM campaign for Enovatek helped them 5x their revenue while working with us.
Additional Tactics for Automating ABM Campaigns:
If emailing cold accounts, always start with an introduction email and give them an opportunity to opt out. Check out this article written by lyne.ai to get started with writing personalized cold emails.
You can warm up target accounts with ABM targeted ads or physical mail prior to your first email to increase open and engagement rates.
5. Segment Email Workflows by Product or Service
If your company relies on a single email workflow to nurture leads, yet you have multiple services or products, it might be worth considering product or service-specific email journeys.
Different products and services have different variables to consider throughout the buying cycle. They might vary in value proposition, length of buying cycle, and target audience.
For example, B2B software company Smart Bear offers a wide range of products. Each product has to do with software testing, but they all answer different pain points and use cases. A single email workflow would be far too generic to effectively convince and convert their leads.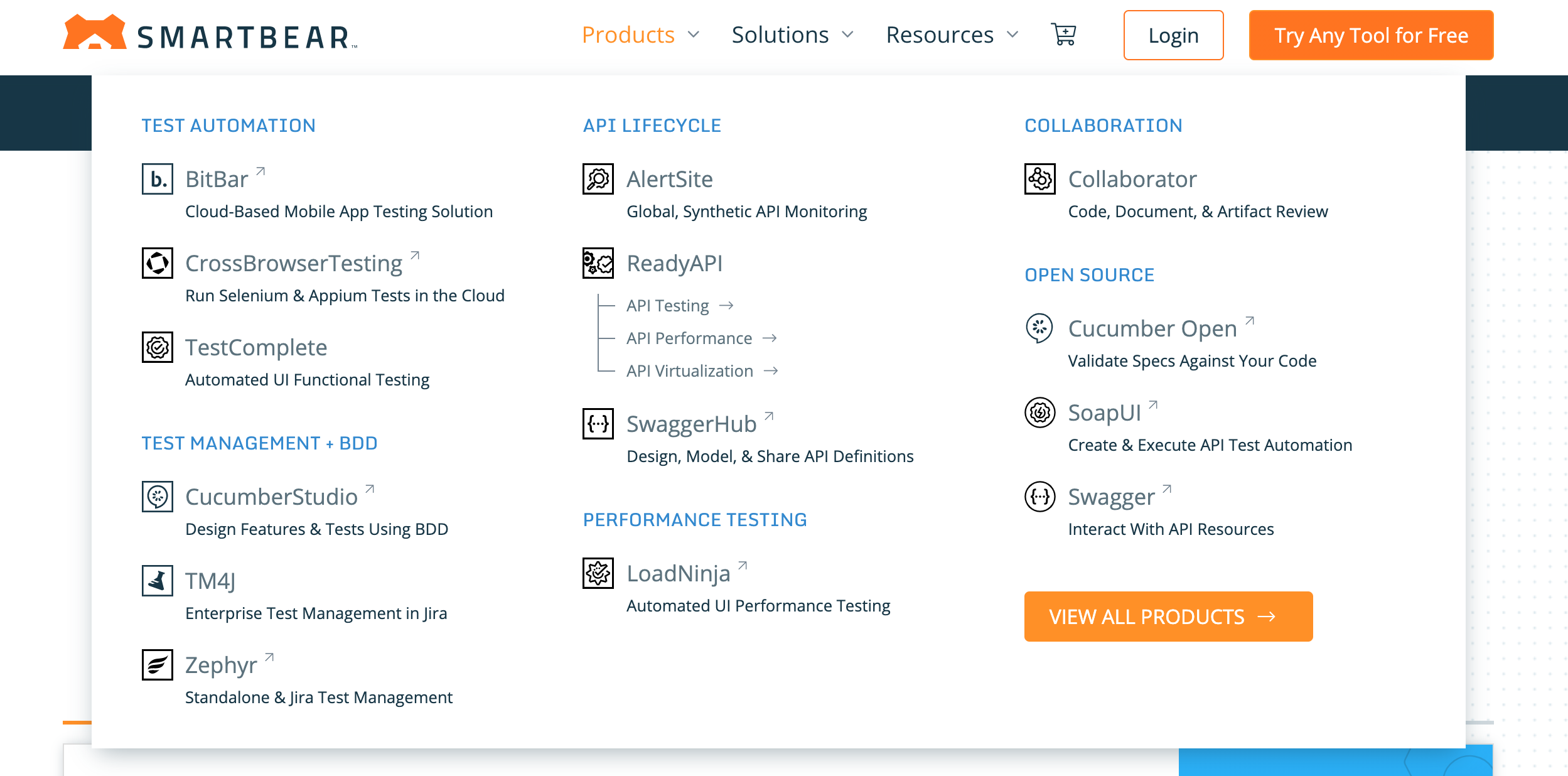 Multiple products should call for multiple email journeys.
Smart Bear segmented their email workflows by product, creating unique and personalized nurture paths for each product group. They took into account the questions these leads ask along the journey, the specific problems the products solve for, and product-specific case studies.
Some paths had only six emails, while more complicated use cases required up to 25 emails to guide leads down the sales funnel.
Their segmenting efforts lead to a 200% increase in lead volume.
Additional Tactics for Workflow Segmentation:
You can segment even further by personalizing products-specific email journeys by industry and persona.
Depending on what platform you use, you may be able to utilize dynamic email content for personalization rather than implementing hundreds of workflows.
6. Remarket Leads to Close More Sales
Many sales conversations stall in the late stages – oftentimes due to the lead, but sometimes due to the sales team.
Using remarketing journeys can help ensure no opportunities slip through the cracks due to busy or sub-par sales follow-ups.
For example, co-living company Hmlet needed help improving their lead to sale conversion rates. Some leads expressed interest in a stay months in advance, making it tough to maintain an effective follow-up system.
Using Salesforce Marketing Cloud's Journey Builder tool, the team at Brew Interactive was able to build a journey remarketing these leads in order to ensure they were followed up with. We automated a follow-up email requesting they schedule a call to nail down final details and hopefully close the deal.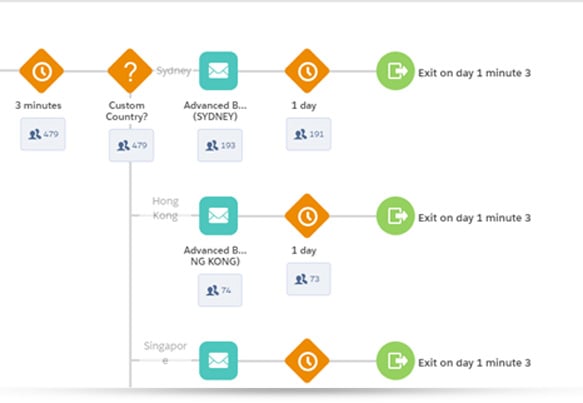 Remarketing campaigns help ensure leads don't fall through the cracks.
This marketing automation strategy improved Hmlet's lead to sale conversion rate by 28%.
Additional Remarketing Tactics:
Leads who aren't ready to make a decision are prime candidates for targeted advertising. Create a list of these kinds of leads to target with ads until they're ready to buy.
Depending on your sales process, a personal call from a sales rep might make more sense in certain scenarios (a prospect with a proposal might request to revisit the scope at a later date). If so, create an automated notification for the appropriate sales rep to call the lead at the proper time.
7. Align Teams to Increase Efficiency with Marketing Automation
Sometimes the best marketing strategies don't have to do with external leads, but internal processes. When marketing, sales, and other teams can't collaborate well, revenue can suffer.
Marketing automation and CRM software allow teams to collaborate by integrating all platforms under one roof, and can increase efficiency through streamlined processes and systems.
When Brew Interactive helped Jonite automate their lead follow-up process, we also implemented a few other marketing automation tactics to help align their sales and marketing teams.
Jonite's sales team was managing and tracking their sales process using Google spreadsheets, while the marketing team was using other business tools. This made it nearly impossible to collaborate and resulted in the marketing and sales teams working in silos – severely limiting business growth.
Using Hubspot's CRM, the Brew team implemented sales pipelines based on new deal stages such as quote request, quote sent, project negotiation, order received, project production, closed won and closed lost.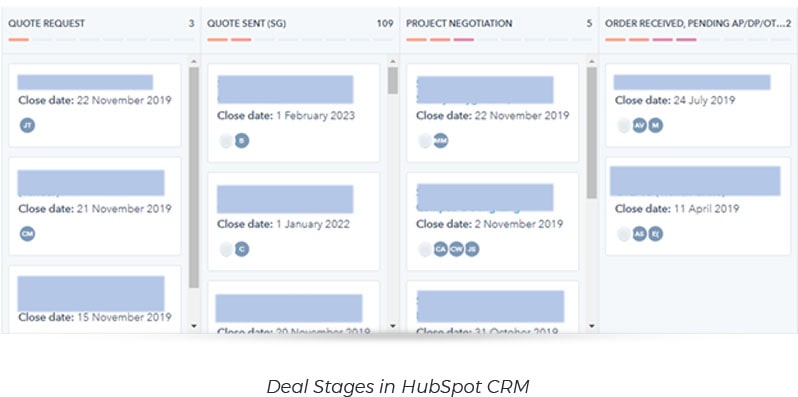 In addition to their pipeline, they needed clearer reporting to ensure all teams were tracking and reviewing the same data. We rolled out new reports to focus on team activity, sales performance, deal forecasts, and sales productivity.
Getting all teams on the same platform, establishing a clear sales pipeline, and streamlining reporting dashboards improved Jonite's sales efficiency by 50%, allowing all teams to spend more time analyzing and improving.
Additional Tactics for Improved Alignment
Encourage weekly meetings and create space for feedback between sales and marketing teams – especially in regards to lead scoring and lead quality.
Ensure both teams are looking at the same data within your marketing automation platform. If either is using external software, find a way to integrate it.
8. Integrate Chatbots to Drive Leads
Using website chatbots can be a great way to automate lead generation. Sending those leads into lists on your marketing automation platform can streamline the top half of your sales funnel in a big way.
Thanks to AI, chatbots can double as sales reps on your website – not only generating leads, but collecting data on site visitors and leads as well.
Professional services firm JLL approached Brew Interactive in need of more leads. They had plenty of web traffic, but low conversion rates.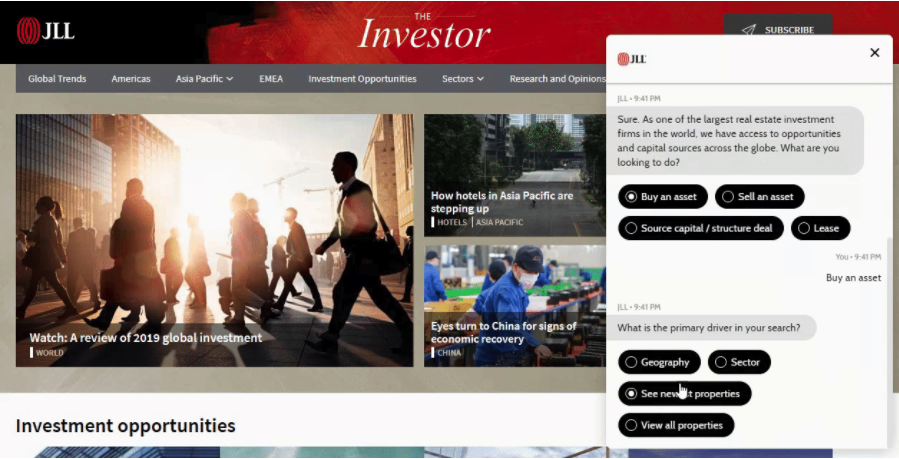 Our team implemented an AI-powered chatbot intended to capture visitor data through user conversations, learn the user's goals, and help visitors achieve their goals faster. We built the bot and integrated it with their marketing automation tool for a seamless lead generation system.
After implementation, JLL saw 12x more leads from their content hub.
Additional Tactics for Chatbot Implementation
Be sure to create multiple conversation flows based on the page a user is on. A single flow across the entire website might not be very effective.
Don't neglect to integrate your bot with your marketing automation platform. Having these leads land anywhere else could lead to inefficiency.
9. Personalize Automation to Increase Conversions
Personalized emails are six times more likely to drive conversions.
With so many emails flooding inboxes these days, it's essential yours stand out. Mastering personalization is one of the best ways to stand out and make an impression with leads.
Most marketing automation platforms allow you to personalize emails with certain contact fields and properties. Some even allow you to use dynamic content for entire sections of your email based on industry, persona, or contact field.
B2B startup Expert Institute was sending out email newsletters, but recognized much more potential from the channel. They adopted a personalized welcome series in an effort to reduce unsubscribes.
Of course one can easily personalize email content by replacing first names or including location, but Expert Institute took their personalization a step further by personalizing based on engagement. They broke down subscribers by most engaged, moderately engaged, and least engaged, segmenting based on email open rates and click rates.
They used dynamic content to send less-engaged contacts free white papers with little-to-no marketing language. Moderately engaged users received similar informational content focused on adding value, with only one opportunity to connect with their sales team. And those highly engaged received more pointed sales language with plenty of calls to action.
The Expert Institute increased open rates by 60% and conversions by 200% – all with personalization.
Additional Tactics for Email Personalization
Use personalized subject lines with first names. Readers are 26% more likely to open them.
Collect the right data in order to personalize. For example, you won't be able to send emails based on zip code if you don't have them.
10. Automate A/B Testing to Drive Open Rates
A handy benefit of marketing automation is the ability to automate A/B testing – a must-have strategy in your marketing toolbox. A/B testing in email refers to experimenting with different aspects of your email to identify what tactics perform best.
For example, you may send one subject line to half your list and another to the other half. Comparing the performance of both will give you great insight into your audience. Within automated drips, you can make adjustments to optimize your emails.
But this is of course a rather elementary A/B testing tactic. So what are top marketers testing that average marketers aren't thinking of?
Email Length: Often overlooked, email length could be the key to higher conversion rates. Some audiences may prefer short and to the point emails, while others are willing to read 1000 words in their inbox.
Content: This seems obvious, but most marketers choose the contents of their emails and then consider which aspects to test. Try split testing entirely different content and see which topics your audience engages with most.
Tone: This can be a fascinating test. Don't alter the copy too much, simply test the tone of your language. Experiment with casual vs. formal, pithy vs. straightforward, and practical vs. aspirational to find out what resonates best with your audience.
Tech giant Dell saw an opportunity in 2016 to test the layout of their email marketing template. They wanted to know whether their navigation performed better in their header or at the bottom of emails, which would allow users to focus more on the primary message of the email.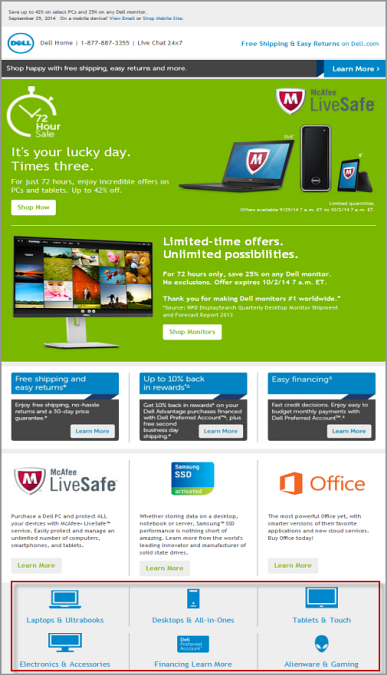 One of Dell's email templates for testing.
Dell discovered their subscribers were much more likely to engage with the content and click-through when the navigation is at the bottom. Dell reported double-digit increases in engagement thanks to this A/B test.
Additional Tactics for A/B Testing:
Always start with a hypothesis. For example, we believe our audience will be more likely to open emails with shorter subject lines.
Only test one variable at a time. Testing multiple variables leads to confusion about which aspect lead to which result.
Test with similar demographics. Sending one headline to CEO's and another to practitioners will also lead to an inconclusive result, as each party has different goals.
Strategy First, Then Tool
The conversation around marketing automation is more often focused on the best software rather than the best strategy. Don't put more emphasis on the tool than how your company uses it.
Choose a reliable software, consider your audience, get creative with your strategy, and always be testing. Do these things, and you'll be well on your way to marketing automation success.
Free DataStudio Marketing Report
Improve your marketing reporting with our free DataStudio template that pulls data from Analytics, Google Ads, and Search Console to get a 360 degree view of your digital performance.
DOWNLOAD NOW